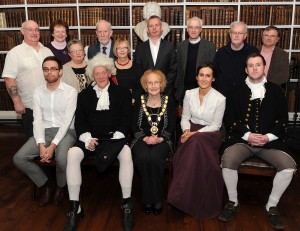 The City Chapter presented Armagh Theatre Group in a Rehearsed Reading of 'Observatory' by Armagh playwright, Daragh Carville. The play is based in Armagh Observatory in 1799 and 1999. Historian Jon McKenna, hired to compile a computerised catalogue of the Observatory archives, finds his life becoming entangled with that of Nicola McLoughlin, assistant astronomer at the Observatory. Together they work to uncover the 200-year-old story of astronomer, Archibald Hamilton and his assistant Robert Hogg – man of science, man of God and revolutionary.
The actors from the Armagh Theatre Group played the roles as follows: Nicola was played by Laura Crilly, Hamilton was played by Malcolm Dawson, Hogg was played by Martin Kernan and Jon was played by Finton Daly. The rehearsed reading was directed by Paul McAvinchey, and lighting was provided by Jackie Murphy.
Daragh Carville attended the performance and, for the programme, supplied the following author's notes:
"James Archibald Hamilton and Robert Hogg were, respectively, Astronomer and Assistant Astronomer at the Armagh Observatory in the late eighteenth century. They were both fine, liberal-minded men, who made a powerful contribution to Irish science. In Observatory, drawing on a number of historical clues, I have created two fictional characters who share their names and positions."
The City Chapter acknowledges with thanks the financial support from the Armagh City and District Council and the Arts Council of Northern Ireland. In addition, thanks are warmly extended to St Patrick's Church of Ireland Cathedral, Armagh Observatory and the Living History Characters for the supply of props and costumes for this event.
Image credit and copyright: Ian Maginess