From 6 November 2014 to 31 March 2015 the Library hosted a small exhibit on the art of paper marbling.
Emma Hassard, one of the Library Volunteers, researched the subject and selected examples of marbles papers that are held in the Library for the exhibit. She also produced the following article on paper marbling, containing numerous images.
We thank Emma very much for the hard work she put into the exhibit.
By Emma Hassard
Upon opening a book from the 18th or 19th centuries, there will be a wealth of colour and elaborate pattern decorating the end pages of these educational volumes. Going back to approximately 1118 in Japan, marbled paper (known as Sumingagashi) was a complex art-form, however, the Persians were the first to use marbled papers within books, and these became a popular choice in Europe from the 1600s. The marbled patterns protected the initial pages from wear and tear, whilst also protecting the books against theft, forgery and erasure. The edges could reveal any tampering, as the pattern would be altered with each removed page.
There is a wide variety of marbling available from Small French Shell and Italian to Nonpareil and Bouquet, all using different paints which provide diverse effectiveness in spreading and saturation. The three main paints are oil-based, gouache and watercolour, the most popular option being watercolour for its ease of use, saturation, amount of spread and reliability. To start a marbled design, printmakers begin with a level tray filled with a substance known as size (typically an extract of ox gall highly diluted with water). The paints are dropped onto the size according to the design and manipulated into specific patterns via combs before applying the absorbent surface of the paper to capture the design. The paper remains submerged in clean water before drying flat.
As with any craft, marbling developed over the years in different regions of Europe. It was no longer exclusively used for interior book decoration, but was also printed for exterior covers of manuscripts and ledgers. Marbled Morocco (a handsome and hard-wearing leather formed from goats' skin which could easily be dyed in vibrant colours) was firstly used in Paris, as well as Marbled Calf (the most common leather for bookbinding formed from calf hide). Marbling became the most common technique for covering the sides of Half-Bound (leather covering the corners and spine of the book) and Quarter-Bound books (leather covering only the spine). However, marbling was also used for books bound in Russia (specially dyed cowhide) and Half-Russia. Many of these bindings could also incorporate marbled edges, however, books bound via Morocco typically had gilt edges. Marbled fabrics also became the latest short-lived trend within the publishing industry, as opposed to the standard leather covers.
Within the main centres of education and industry during the 1700s, apprentices were educated in separate techniques of marbling, only mastering one or two patterns in total. If the apprentice attempted to set-up a rival establishment or institution, he would not have had enough expertise to form a commercially viable business, thus keeping the craft very secretive and commercially controlled. Despite only mastering select patterns, no two marbled designs would ever be the same. Marbled papers also could influence the way in which the works would be analysed and interpreted by the readers. George Berkeley's The Works of George Berkeley to which is Added an Account of his Life and Several Letters (1820), is an example that features a Fantasy Marble that appears contemporary in nature on the binding. Perhaps due to the sleek exterior finish, or in part due to the modest choice of colours used, the book would not look out of place amongst collections in a contemporary library, therefore calling for a forward-thinking mind-set when reading the accounts depicted within.
Found within the Library's collection, various styles have emerged with an assortment of colours and patterns from Stormont to Bird Wing, with each work showing the creativity and craftsmanship of the printmakers of the time. Since marbling is no longer a viably commercial craft, awareness of the attention to detail, patience, creativity and skill required to produce such prints has been lost. Marbling patterns held in the Library include:
Nonpareil
The Nonpareil is formed by dropping different paints onto the size. A comb is then pulled in through the paint horizontally twice, and then once vertically.
[one_half]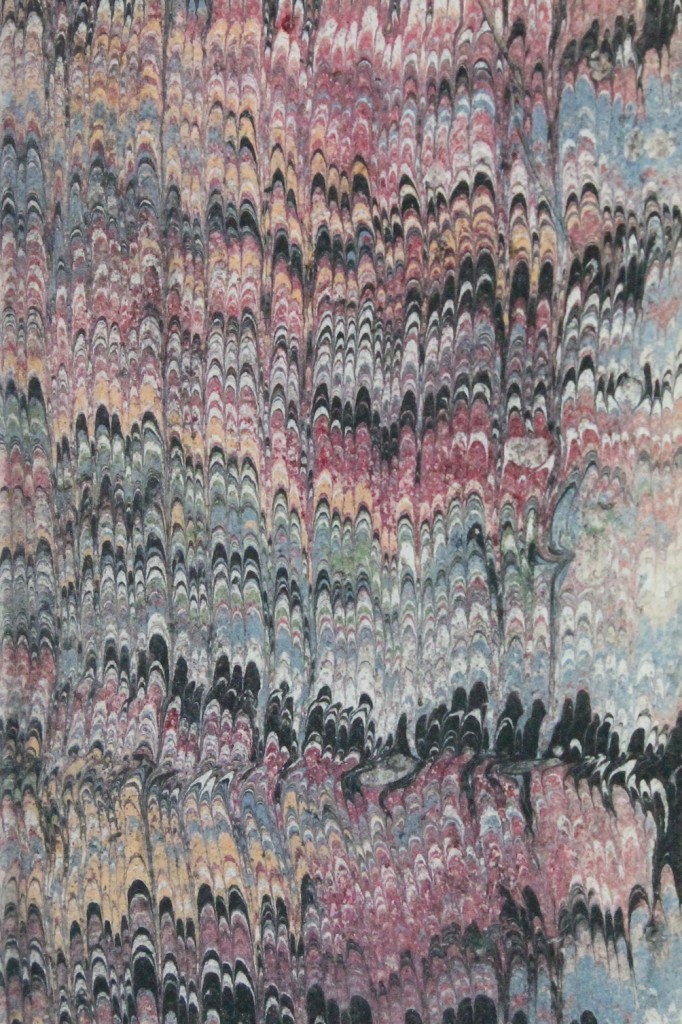 Statonica del Signor Luca Assarino
B. Pallavicino
Geneva, 1647
[/one_half][one_half_last]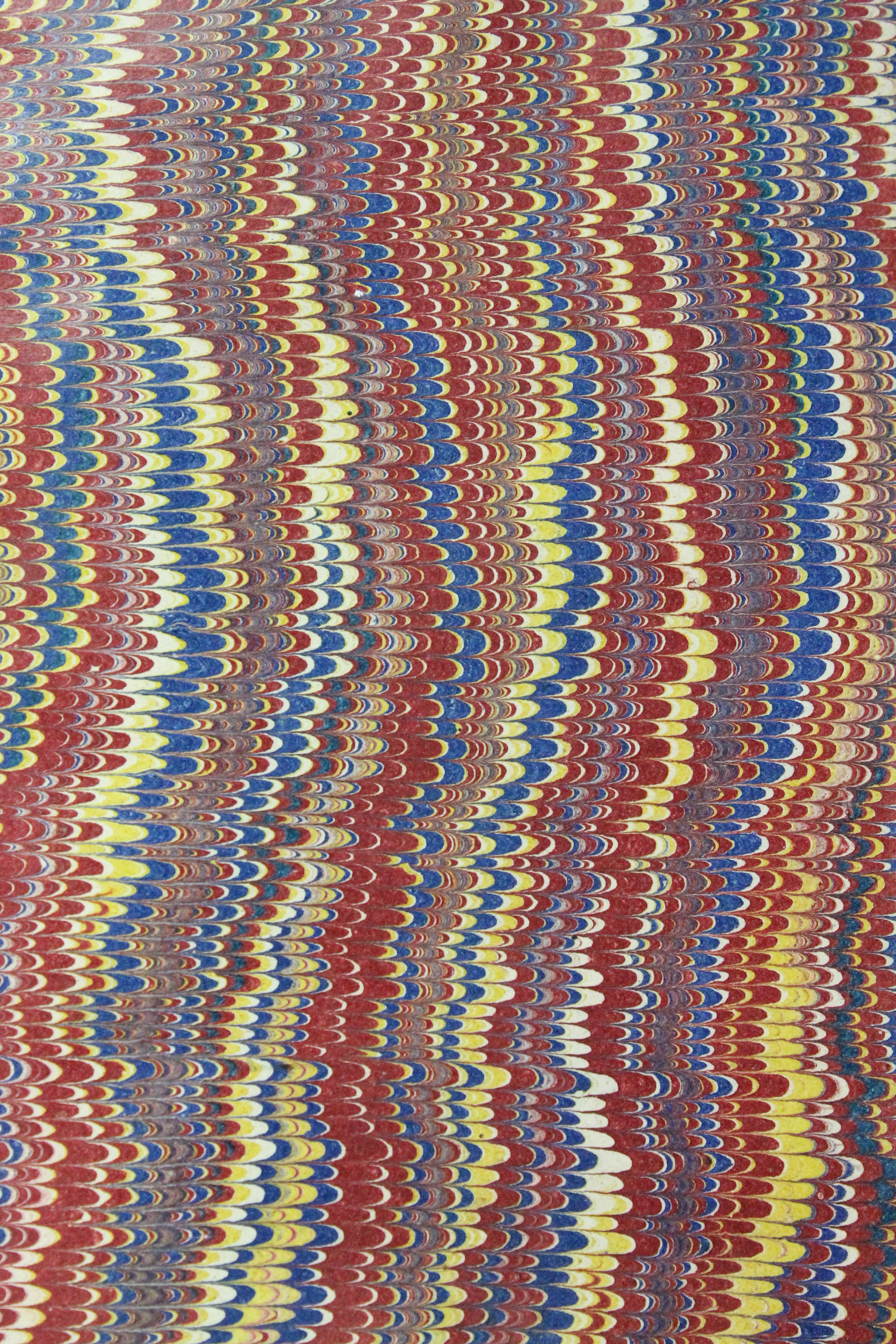 Liber De Mensura Orbis Terrae
Dicuil
Berlin, 1870
[/one_half_last]
Bird Wing
A delicate Nonpareil pattern manipulated into large wing-like turns on the size.
[one_half]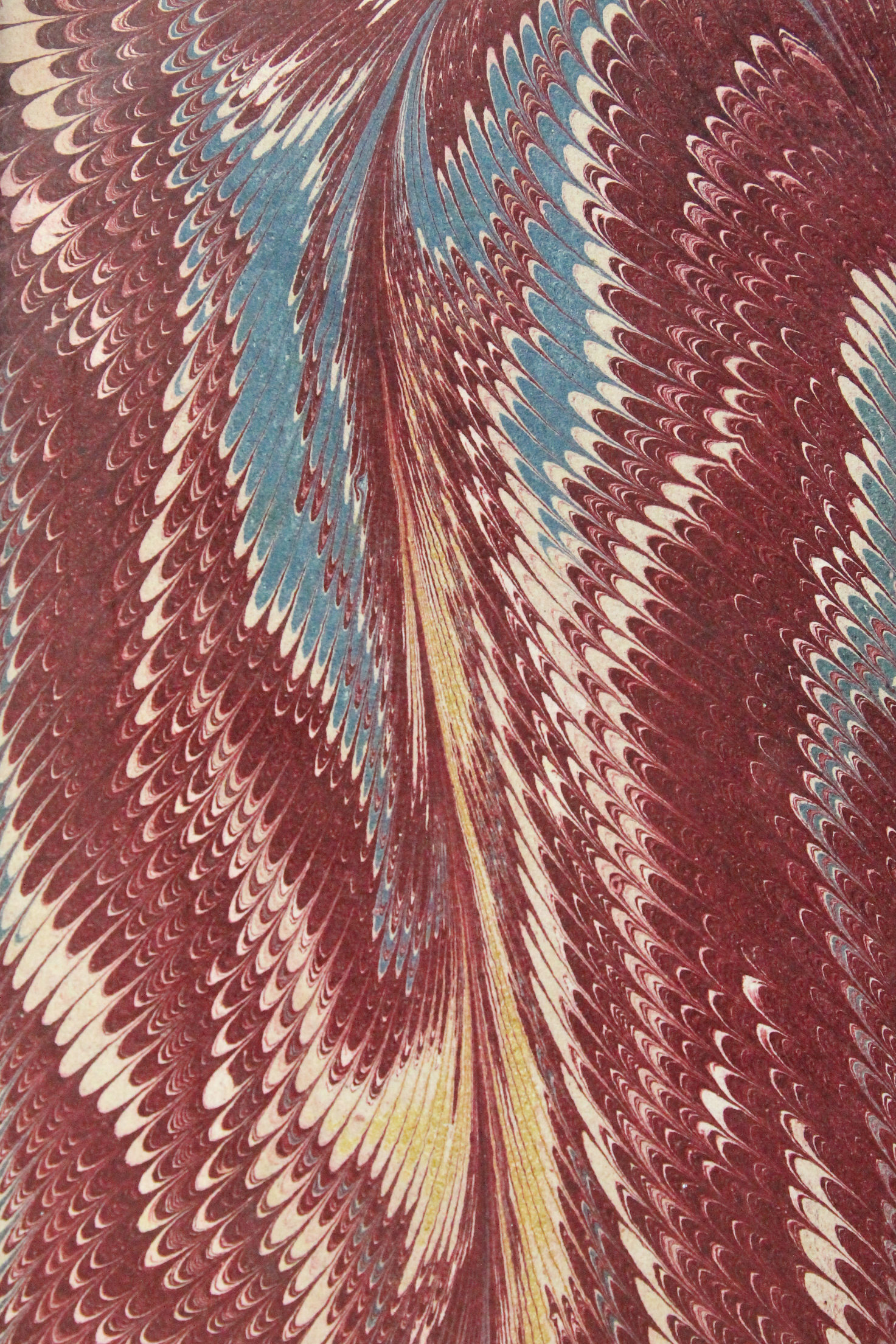 The Book Of Common Prayer In Ireland
1918
[/one_half]
[one_half_last][/one_half_last]
Stone Marble or Turkish
Thousands of coloured droplets are splashed onto the size. The first colours to be applied constrict and become the veins as other colours are applied.
[one_half]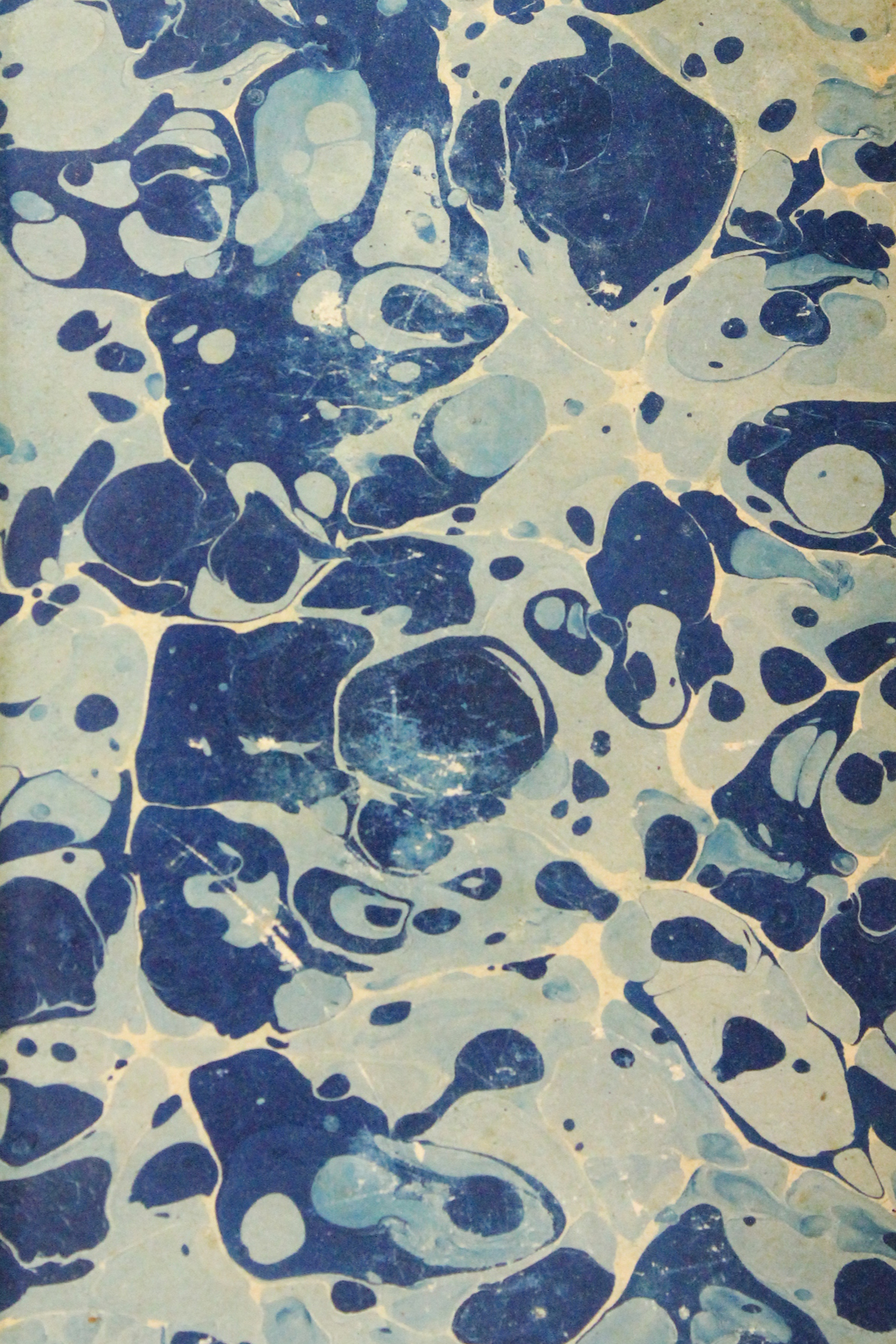 Theatre Complet de J.B. Poquelin de Molière
J.B. Poquelin de Molière
Paris, 1882
[/one_half][one_half_last]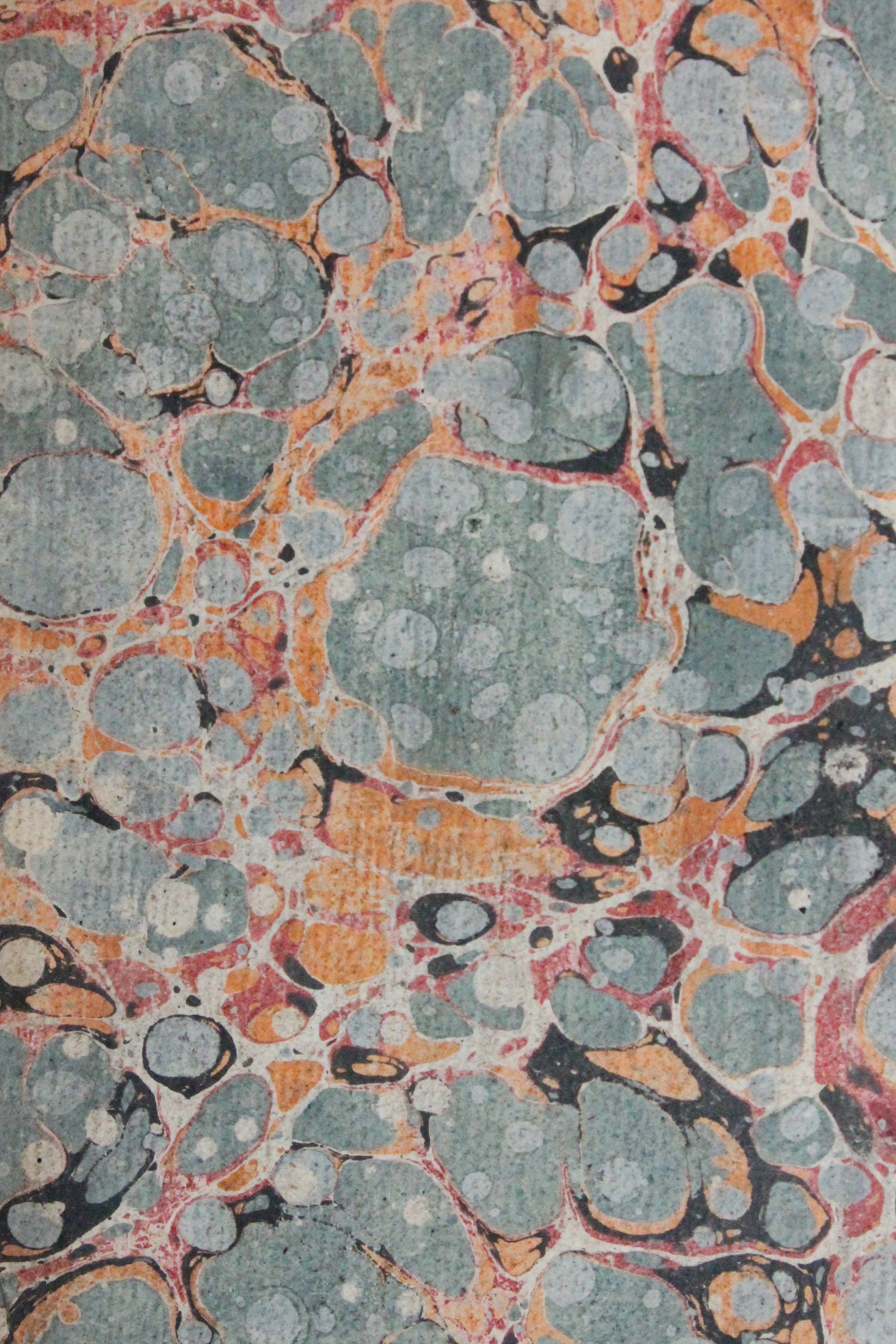 Description of an Instrument for the Operation of Trepanning the Skull
Samuel Croker King
1794
[/one_half_last]
Dahlia
The Dahlia pattern is created, firstly by making a Zebra pattern. Large drops of ink are dropped on the size. The drops are combed in a straight line twice. Large drops of ink are then splattered on. Secondly, for the Dahlia pattern, more colours are lightly splattered on top of the Zebra pattern.
[one_half]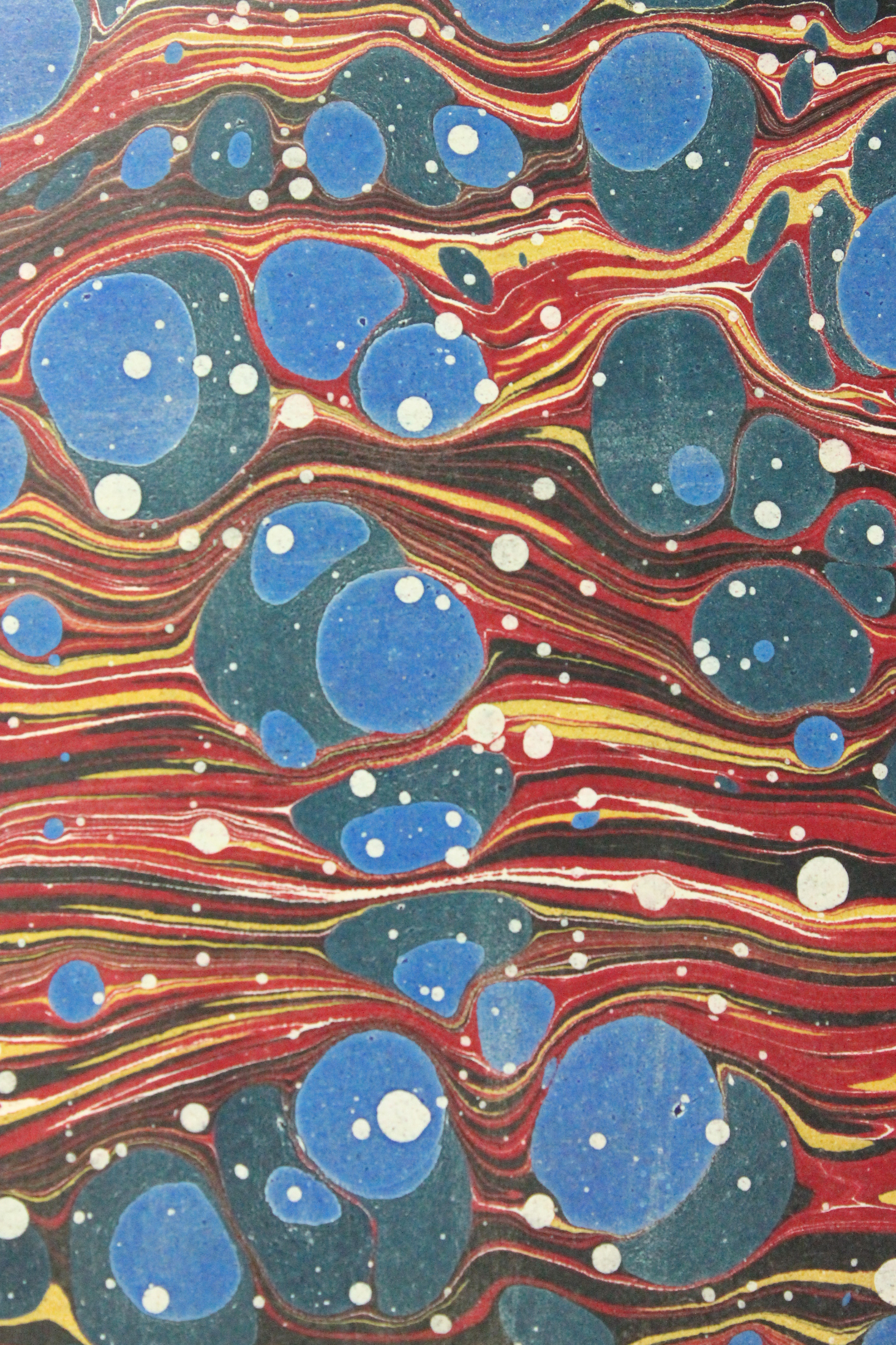 Bishop Burnet's History of his Own Time
Gilbert Burnet
Oxford, 1833
[/one_half][one_half_last]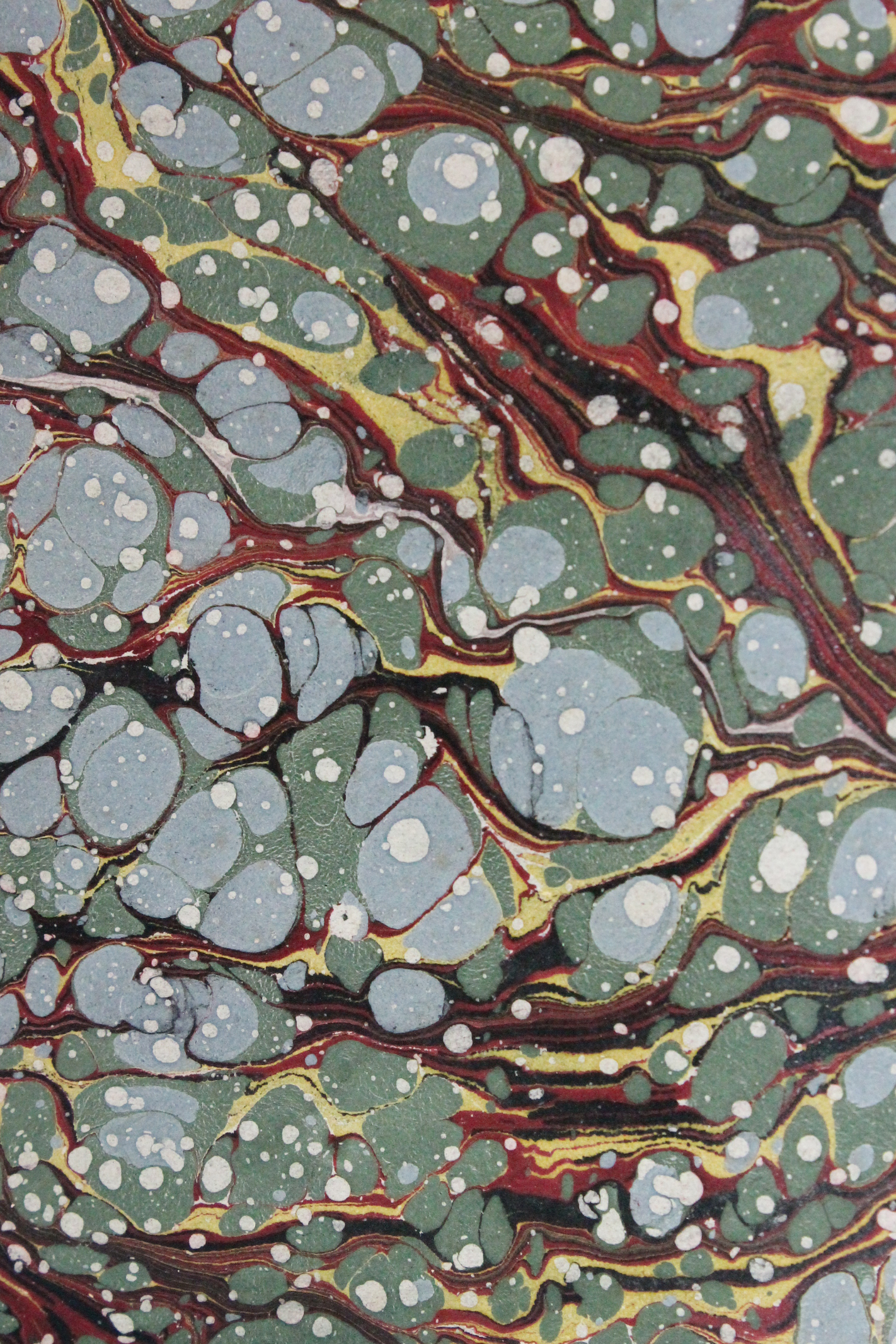 History of Rome
Thomas Arnold
London, 1857
[/one_half_last]
Stormont
Starting with a Turkish Base, droplets of colour mixed with a dispersant, such as turpentine, are added to the size. These colours form a large network of holes.
[one_half]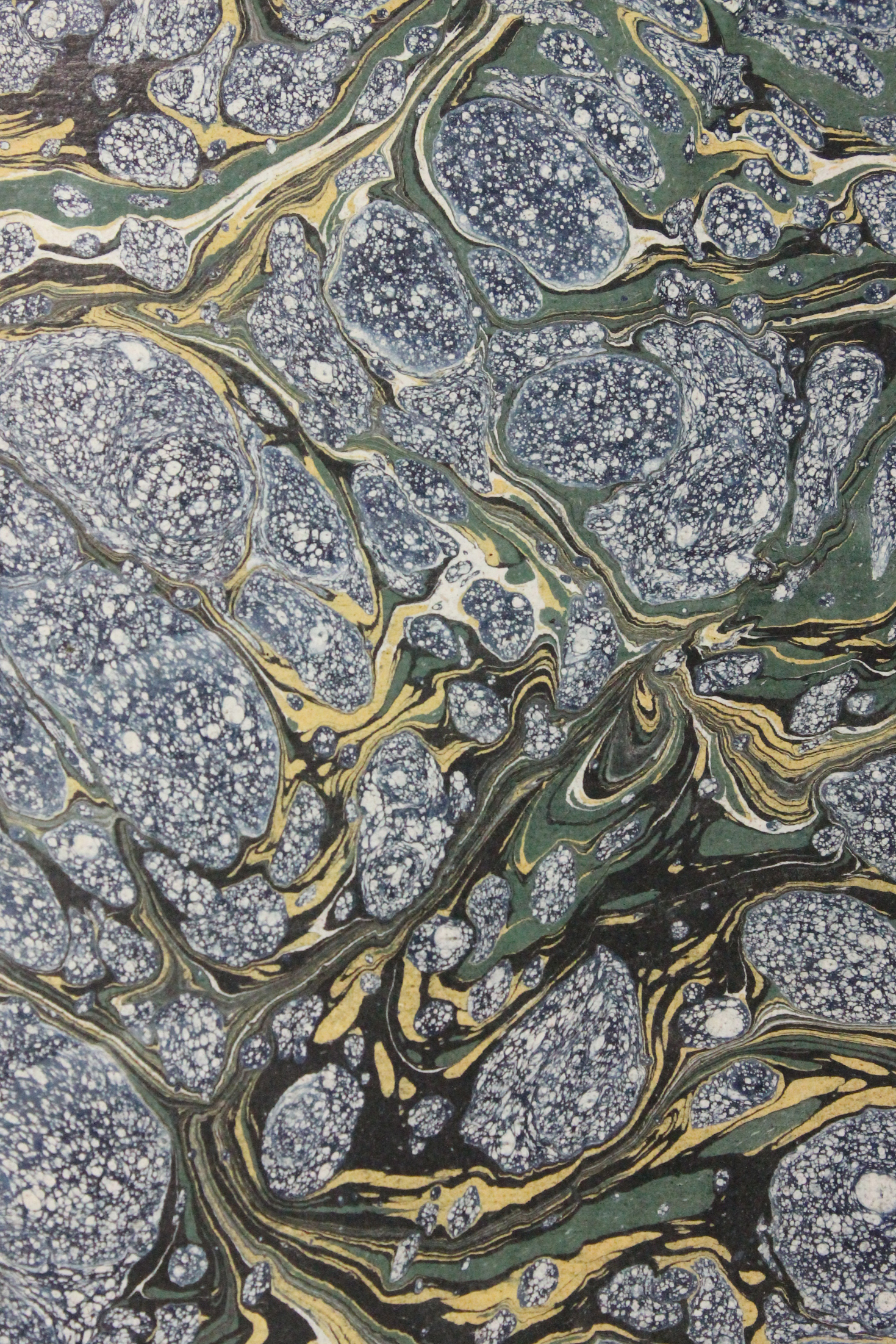 The art of painting of Charles Alphonse Du Fresnoy
C.A. Du Fresnoy
York, 1783
[/one_half]
[one_half_last][/one_half_last]
French Shell
Firstly ink is mixed with ox gall and dropped onto into the size. The ox gall makes sure that the ink flows out evenly into large drops. Additional ink is mixed with some oil and applied to the size in medium sized drops. This second ink drives the previous ink into veins, while the oiled ink will create a small white outline.
[one_half]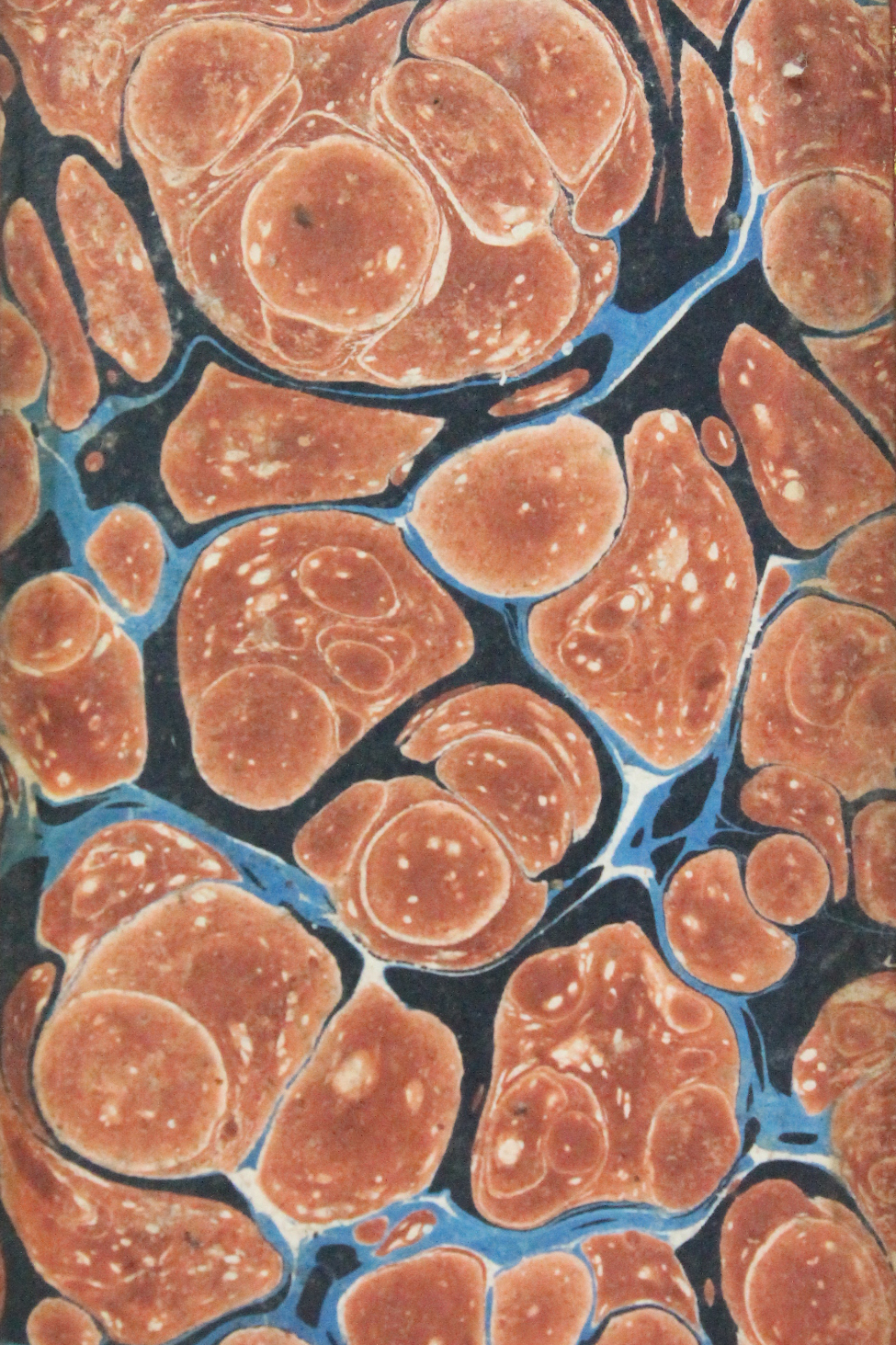 The Book of Common Prayer
Dublin
1794[/one_half][one_half_last]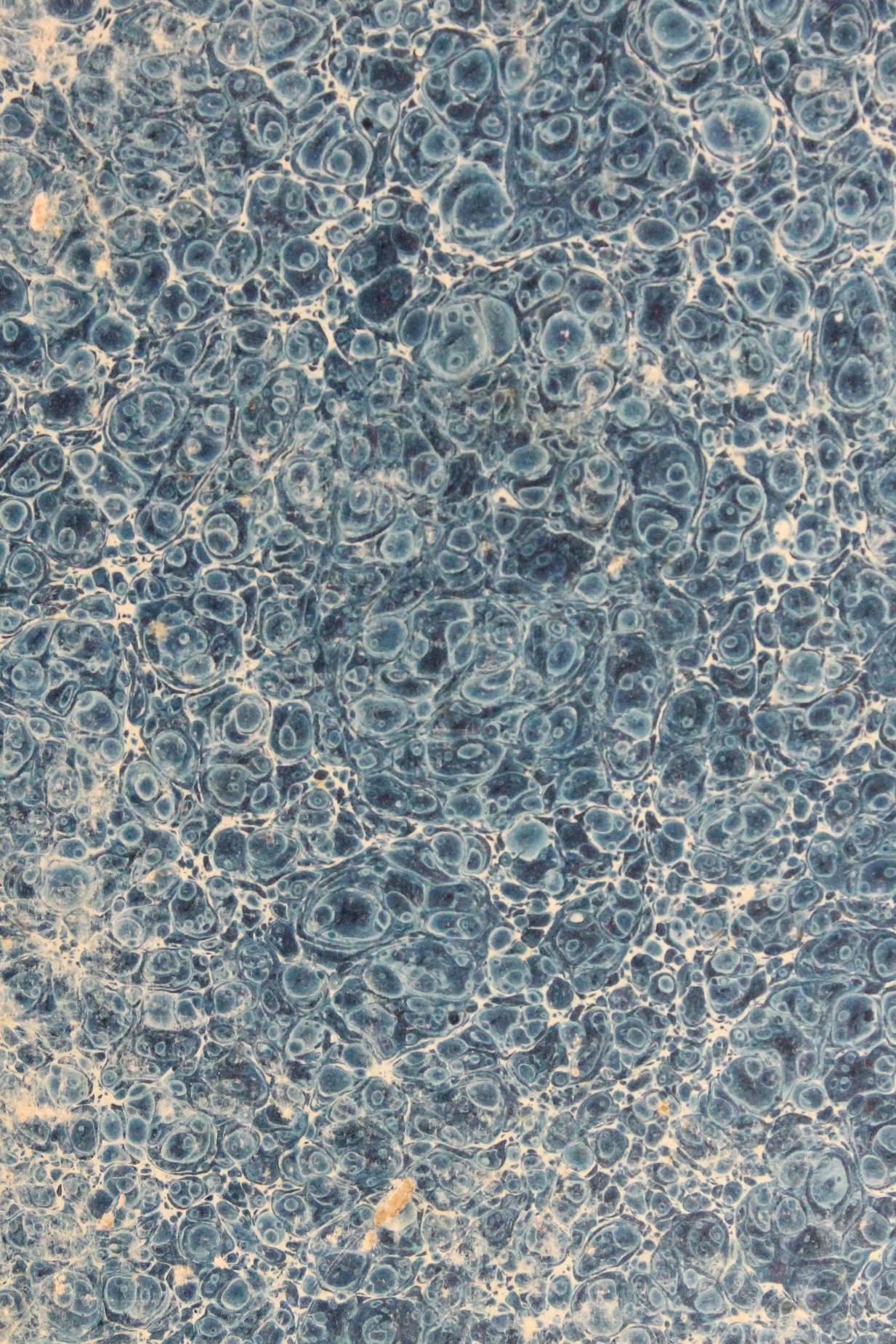 Supplementary Statement of Mr. Lascelles
Mr. Lascelles
1820
[/one_half_last]
French Curl
For the French Curl pattern, a Turkish pattern is created and then is swirled with a stylus or wide toothed comb.
[one_half]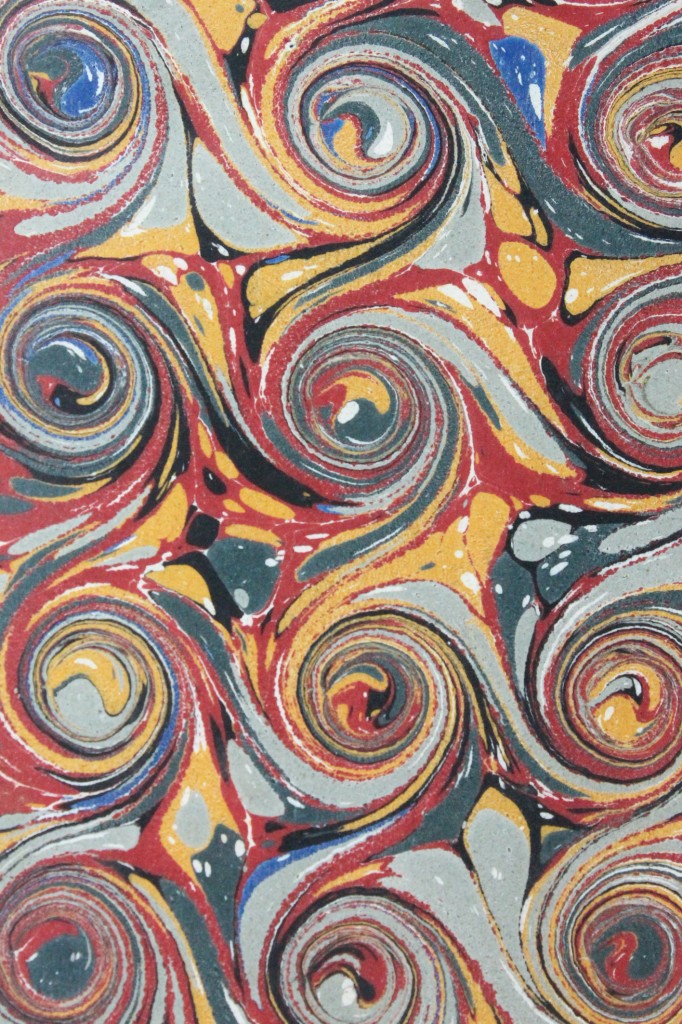 The works of Alexander Pope
Alexander Pope
London, 1847[/one_half]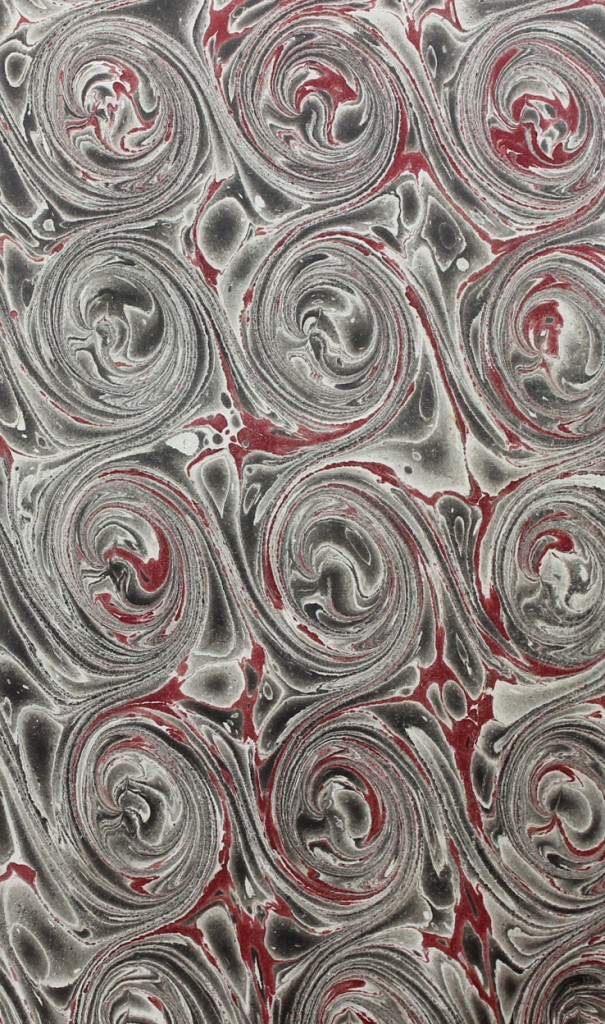 [one_half_last]
History Of the Conquest Of Peru
William H. Prescott
London, 1855
[/one_half_last]
Spanish Wave
The Spanish Wave begins with a Turkish pattern. The pattern can be swirled or combed. When the pattern is created, the paper is gently lowered onto the size. The water is then agitated to create a rippled fabric effect.
[one_half]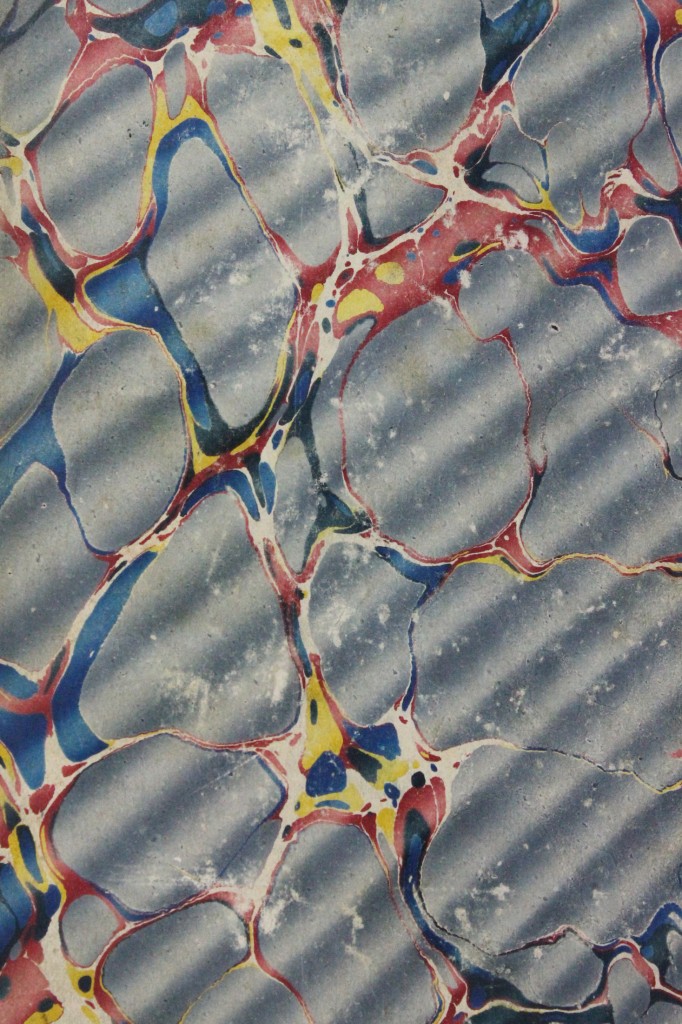 The New Statistical Account of Scotland
John Gordon
Edinburgh & London, 1845
[/one_half][one_half_last]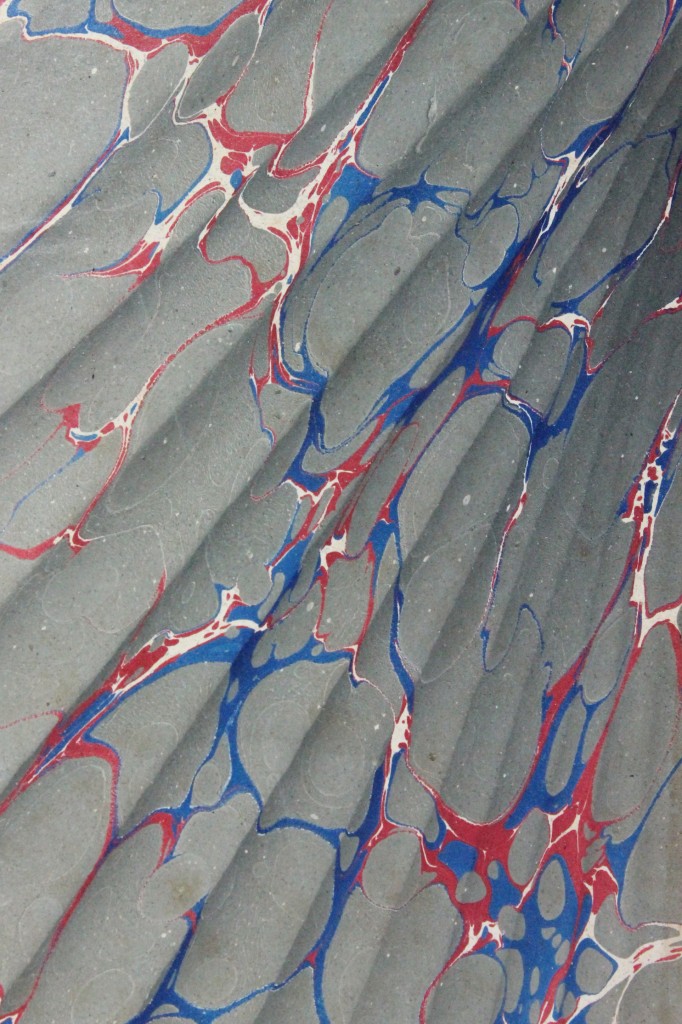 An Exposition of the Creed
John Pearson
London, 1824
[/one_half_last]
Bouquet
Beginning with a Nonpareil base, a comb with two sets of teeth is drawn through vertically in wavy lines. This causes the base to fan out like floral bouquets.
[one_half]


Leabhar na nurnaightheadh gcomhchoidchiond [Book of Common Prayer. Irish]
William O'Donnell
1608-1609
[/one_half]
[one_half_last][/one_half_last]
Fantasy
A Turkish base is applied to a thin size. A stylus is used to pull the base into loose unstructured shapes.
[one_half]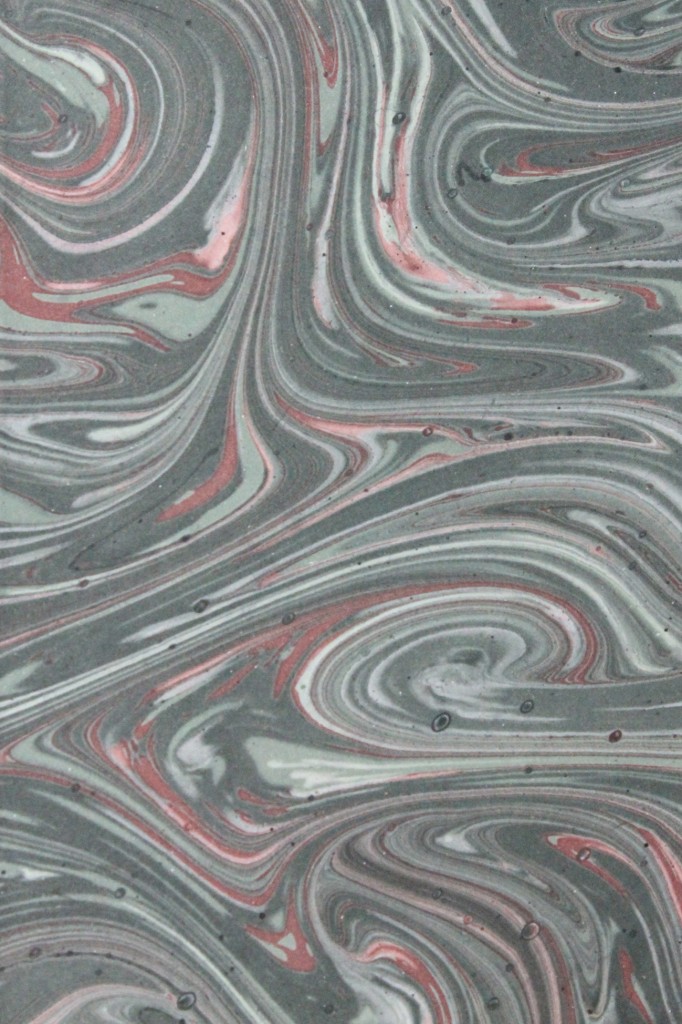 The Works of George Berkely
George Berkely
London, 1820
[/one_half]
[one_half_last][/one_half_last]
Placard
Starting with a Turkish base the pattern is pulled into swirls and lengths using a stylus in an unstructured manner.
[one_half]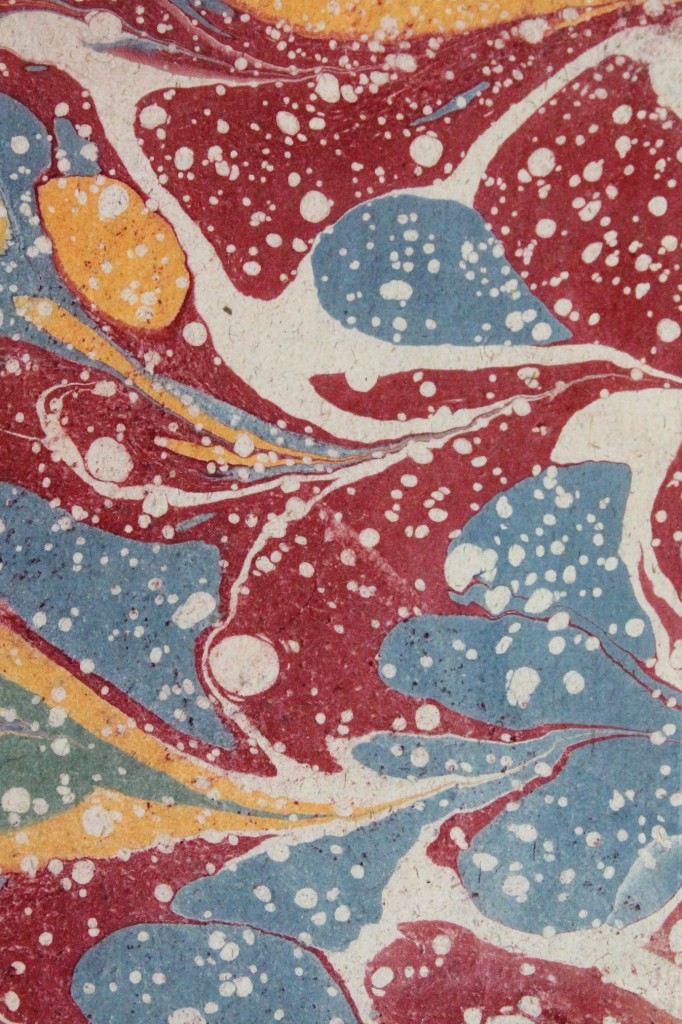 Commentaire Litteral Sur Tons Les Livres De L'ancien Et Du Nouveau Testament
Augustin Calmet
Paris, 171
[/one_half]
[one_half_last][/one_half_last]
Double Comb
For the Double comb pattern a Nonpareil pattern is formed, then combed through once again vertically, this time with a wider toothed comb.
[one_half]


Theatre Complet de J.B. Poquelin de Molière
J.B. Poquelin de Molière
Paris, 1882
[/one_half]
[one_half_last][/one_half_last]
Antique Straight
A Zebra base is created by drawing the colours through vertically before applying a series of white droplets on top.
[one_half]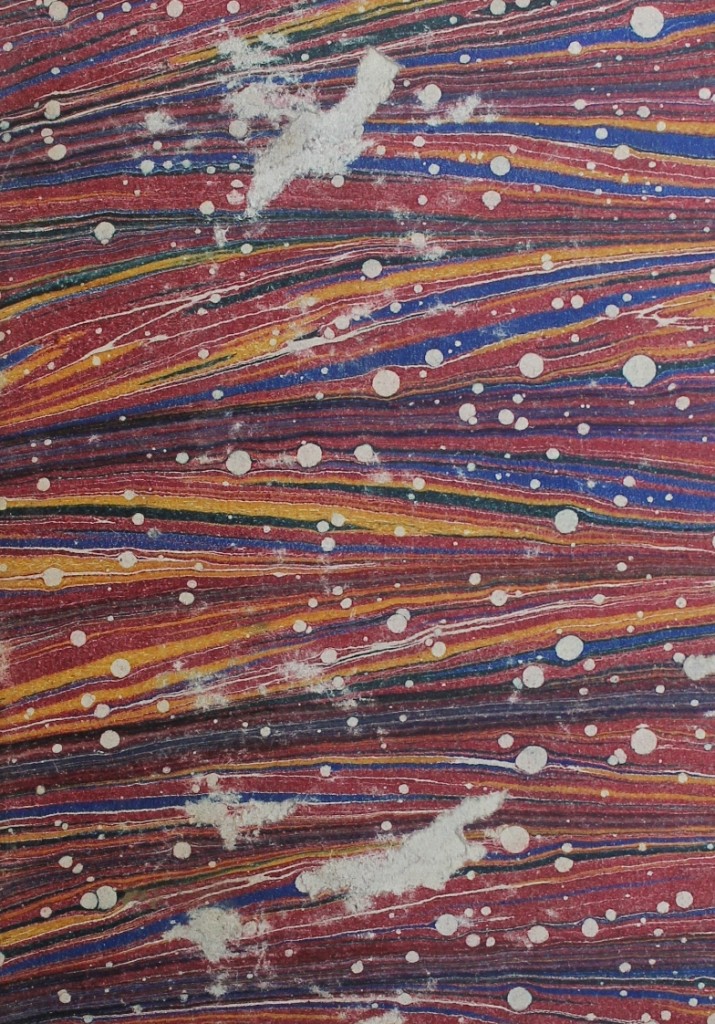 Historical Memoirs Respecting the English, Irish And Scottish Catholics
Charles Butler
London, 1821
[/one_half]
[one_half_last][/one_half_last]
Swirls on Turkish (Mixed pattern)
[one_half]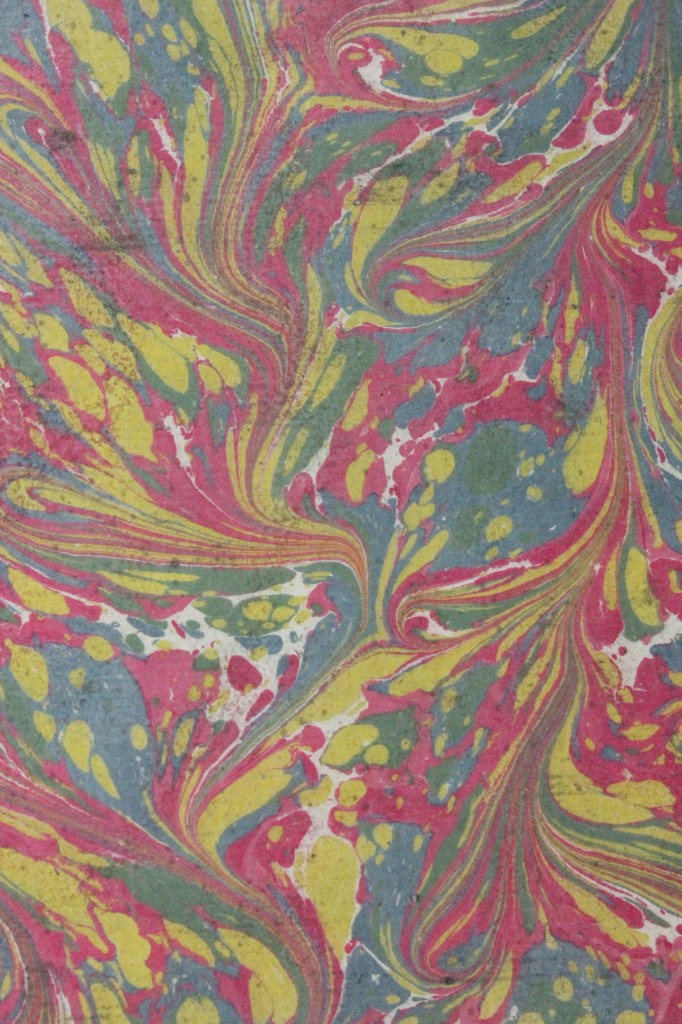 Pietas et Gratulation Collegii Cantabrigiensis apud Novanglos
Harvard University
Boston, 1761
[/one_half][one_half_last]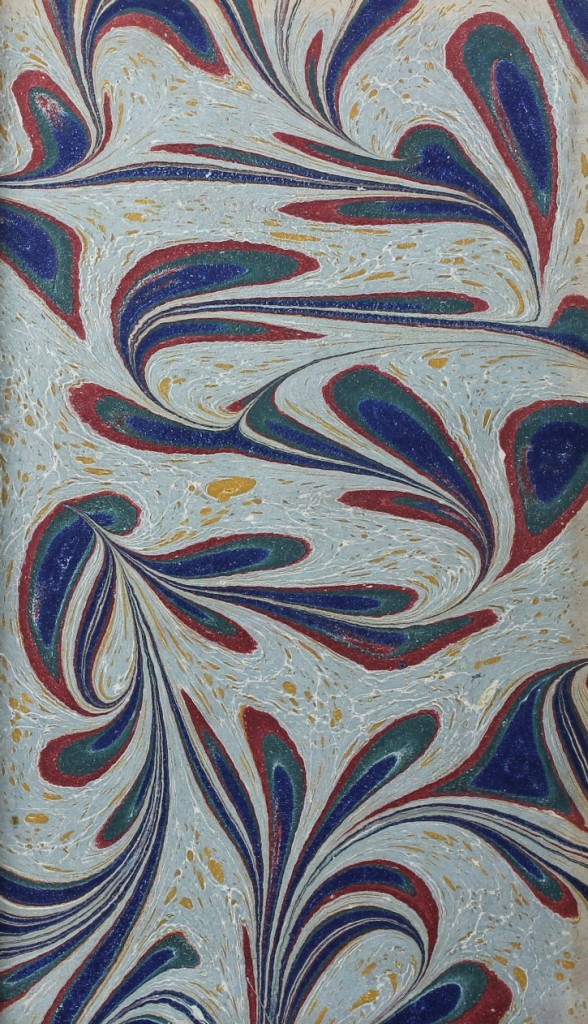 Fragmenta Comicorum Graecorum
Augustus Meineke
Berlin, 1857
[/one_half_last]
Stormont on Shell (Mixed pattern)
[one_half]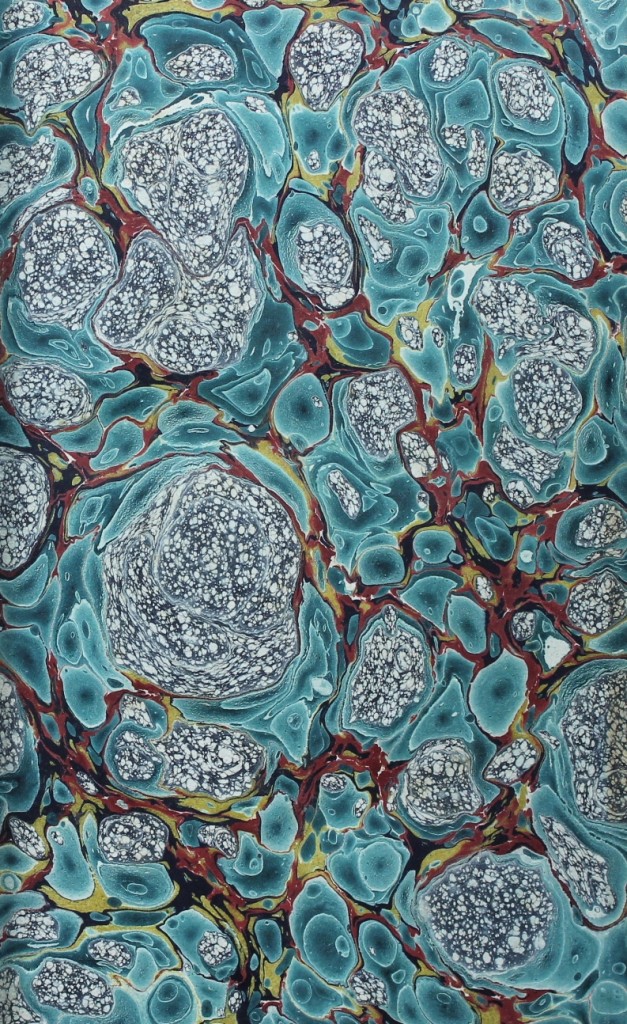 History of England, from the peace of Utrecht to the peace of Versailles
Philip Henry Stanhope
London, 1854
[/one_half]
[one_half_last][/one_half_last]
As indicated, a number of unusual and fascinating designs are held within the collection here at Armagh Public Library. One such book is John Pearson's Exposition of the Creed (1824), which depicts a gentle diagonal ripple via Spanish Wave Marbling, originating from a classic red/blue/grey Stone Marble. The initial pattern is created upon the size, and once the paper is laid on top, it is agitated to produce the 3D rippled cloth-like effect. On the edges is a monochromatic Stone Marble print. Very few examples similar to this are available within the library collection. Another example is Mr. Lascelles' Supplementary Statement Of Mr. Lascelles, To His Excellency Lord Baron Manners..Etc. And To The Other His Majesty Commissioners Of The Board Of Records In Ireland (1820) which is covered by a beautifully intricate and delicate Small Shell Marbling in various tones of vibrant blues.
The various examples in Armagh Public Library highlight the skills of various artists throughout Europe, protecting the books from everyday damage and theft via their expert craft. The exhibition currently displayed within Armagh Public Library highlights not only a wealth of knowledge acquired by Archbishop Robinson in order to complete the University Library, but also a varied artistic display of an overlooked and mainly forgotten craft that was so essential to bookbinding during the time.
The exhibition runs until the end of March 2015.