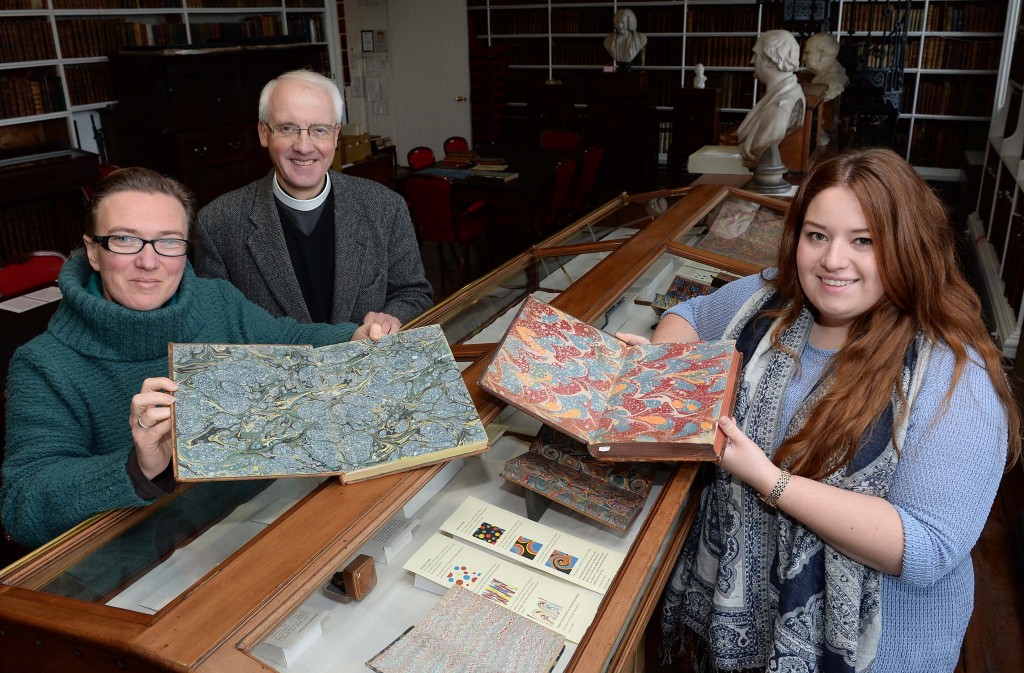 The Library has launched a small exhibition to display a range of marbled papers, which use colour in intricate patterns to ornament the end pages of many of its early books.
Library volunteer, Emma Hassard, has worked with the Library's Archivist, Thirza Mulder, to find a variety of examples of marbling within the collection. Emma, who is from Hamiltonsbawn and who has recently graduated in photography from Newport University in Wales, has carried out meticulous research.
From the eighteenth and nineteenth centuries in Europe, marbled patterns were used not only to add beauty to the books, but also to give protection. Not only did they keep the initial pages safe from wear and tear. By marbling the edge of pages, the books were protected from theft, forgery and erasure. Any attempts at tampering would be revealed, since the removal of a page would alter the pattern.
In the eighteenth century, each marbled pattern required its own individual technique. Apprentices were trained to master not more than two. Had an apprentice attempted to set up a rival establishment or institution, he would not have had enough expertise to form a commercially viable business. The craft therefore remained very secretive and commercially controlled. Although apprentices mastered select patterns, no two marbled patterns were ever the same. People began to capitalise upon this, using the marbled papers to influence the way in which the works would be analysed and interpreted by the readers and audience, as is apparent in a number of books within the collection at Armagh Public Library.
Emma said, "Since marbling is no longer a viably commercial craft, we have lost touch with the tremendous attention to detail, patience, creativity and skill required to produce such prints. The examples within this Library highlight the skills of various artists throughout Europe, and the one which I particularly like, is covered by a beautifully intricate and delicate Small Shell Marbling in various tones of vibrant blues".
The Keeper of the Library, the Very Revd Gregory Dunstan, said, "Emma's work is a wonderful exposition of a forgotten craft, and an insight into the artistry involved in high-quality publishing in the Eighteenth Century. The exhibition is part of the Library's contribution to Georgian Day, and will still be available to view until March 2015."