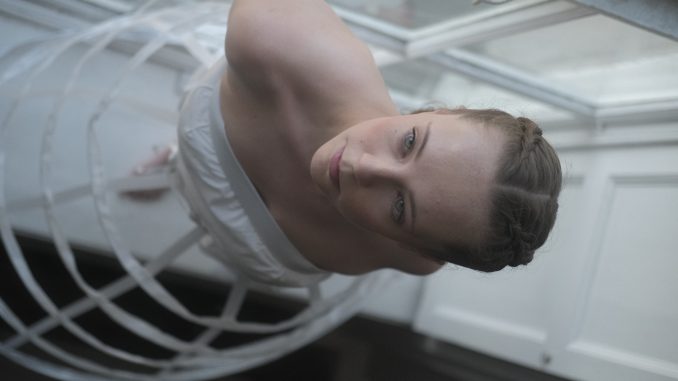 An innovative contemporary dance and poetry film was created in the Library, to celebrate its 250th anniversary. The film will be launched on Thursday 25 November 2021 at 8.30pm in the Studio Theatre of the Market Place Theatre, Armagh. 
When he died, Archbishop Robinson requested that all his personal correspondence be burned and destroyed. In 2019, the poet Maria McManus ran an international letter-writing campaign to 'fill the void' left behind, with new letters. Hundreds of letters were received from people of all ages, and from across the globe. The subjects written about included contemporary issues, and also letters to the dead, the lost, the imagined, to the future, to the past, to the inner self, and to public figures. The Library has become a home for these new letters in the present, binding the past, the future and the sense of place.
The creative team revisited the correspondence received and, selecting a handful of poignant lines, devised this beautiful homage to the legacy of the 'healing place of the soul', which is the translation of the Greek inscription carved in stone above the Library's entrance door, celebrating it in poetry and movement.
Speaking before the premiere, Maria McManus said, "The theme of 'binding' is dealt with in several ways: the binding of books, as bonds across time and generations, in the costumes and metaphorically linking corsetry to constraints on women and access to education and expression of the body, written and spoken words. The Library is also a character in the film, which was recorded there in July 2021."
BIND is a collaboration between choreographer Eileen McClory, poet Maria McManus, composer Katie Richardson, costume-maker Una Hickey, and filmmaker Conan McIvor.  The dancers are Ryan O'Neill, Clara Kerr and Rosie Mullin. The poet Bebe Ashley translated the chosen lines to sign language which formed the basis for development of the movement sequences. Voice-over is by Roisín Gallagher.  The film is supported by the Arts Council of Northern Ireland and Bank of Ireland Business to Arts/Begin Together Arts Fund.  
The Library is grateful to Armagh City, Banbridge and Craigavon Borough Council for their support with the premiere of 'BIND' which will be held in the Market Place Theatre to allow for more seating.  It is also grateful to the whole team involved in the production of 'BIND'.
Admission is free with booking essential through the Theatre's booking system.
Following the launch, the film will be played at regular intervals in Armagh Robinson Library on Friday 26 and Saturday 27 November, as part of Armagh's Georgian Festival.