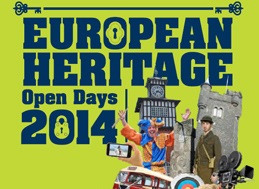 For the weekend of 13 and 14 September, forty-five buildings will be open to the public throughout the Armagh City and County as part of the 2014 European Heritage Open Days (EHOD). Armagh has a wealth of buildings of historic and architectural importance to encourage visitors to spend a day in the county during this initiative.
The City of Armagh will have sixteen buildings open for this weekend. Three of them are on the ancient Hill of Armagh. Armagh Public Library and No 5 Vicars' Hill, the former registry, as well as St Patrick's Church of Ireland Cathedral, will all be open for visitors.
All three buildings will be open free-of-charge during the day on Saturday and again on Sunday afternoon. There will be activities for children to carry out during their visit. The Library will have historic material on architecture on display to complement this celebration of our built heritage. It will also have some duplicate copies of modern publications for sale.
As the Dean of Armagh and the Keeper of Armagh Public Library, the Very Revd Gregory Dunstan said: "All of us at the Library, Cathedral and No 5 are looking forward to welcoming hundreds of visitors over the course of the two European Heritage Open Days. Our team of volunteers will be on hand to greet our visitors and answer their questions about these three unique and lovely buildings. Refreshments will be available next door to No 5 at '4 Vicars'."
Information on all the buildings open for EHOD can be found in brochures available at the Armagh Visitor Information Centre and other public buildings, and on the NIEA website.