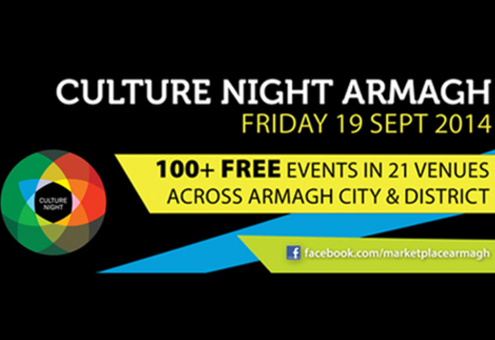 Four venues on the Hill of Armagh will be open and ready to receive visitors to view the buildings, to meet artists and to watch performers, on Culture Night on Friday 19 September 2014.
The range of cultural events will include two guided tours in St Patrick's Church of Ireland Cathedral and its Crypt, and an organ recital by Stuart Nelson, organist of St Mark's Parish Church, Portadown. Visitors will be welcome to sit and listen to the music or to enjoy it as they walk around the Cathedral.
Meanwhile 4Vicars Restaurant at No 4 Vicars' Hill will host an art exhibition, showcasing the works of two County Armagh artists, John Scott from Markethill and Olive Duffy from Richhill. Guests will be invited to view and purchase their artwork and will have an opportunity to talk with the artists while enjoying some delicious, locally inspired canapés and refreshments provided by the 4Vicars team of Gareth and Kasia Reid.
Next door, No 5, the former Registry, will be open to show off its collections and curiosities, and will act as a stage for a short performance piece, called 'The Keepers of the Hill'. Created by children from Armagh under the direction of SoundMór, it will depict the magical nature of the Hill of Armagh guarded for eternity by keepers at the four compass points. The Hill made angry by a tourist's careless comments decides to reveal some of its treasures. Each keeper is given a chance to tell of something they have seen from their vantage point. The children will use dance, drama, song and movement to share these memories of life in Armagh. The producer, Sally Walmsley, says: "Once you know about this secret life of the hill, you will never look at the Hill of Armagh in the same way again."
Armagh Public Library, the oldest library in Northern Ireland, will open its doors to let visitors experience its space, described as 'the healing place of the soul', to see some of its collections and to enjoy two musical performances, one by ten year old Michael Haughey on guitar, and the second by the Campbell Trio from Pomeroy.
Summarising the cultural input from the Hill of Armagh, the Very Revd Gregory Dunstan, Dean of Armagh and Keeper of Armagh Public Library says: "On Culture Night, we do something different. Hosting visiting artists, performers and musicians allows our visitors to see our buildings in a new light. By working together as neighbours, we offer a unique experience at the heart of Armagh."