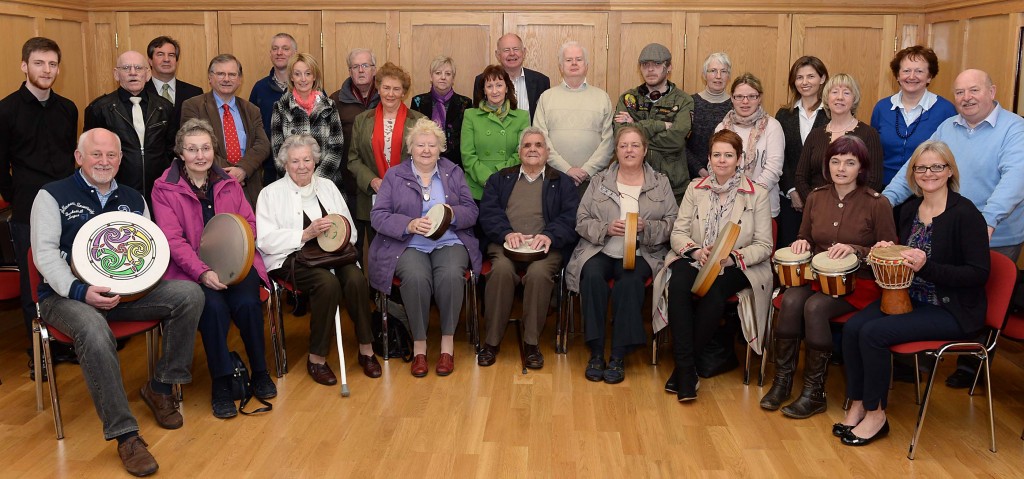 Image credit and copyright: Ian Maginess
'The Waking of Brian Boru' is a community project which was launched in January to offer local people of all ages in Armagh an opportunity to reflect upon and engage with the one thousand year anniversary of Brian Boru's death and burial in Armagh this year. The project brings together pupils from seven Armagh primary schools, St Catherine's College and Lisanally Special School with adults drawn from across the Armagh area. Music performance workshops have allowed the different groups to explore the exciting story of Brian Boru and the reasons for his connection with Armagh. The project will lead to two performances of a telling of the story of Brian Boru's life, to be held on the Hill of Armagh in St Patrick's Church of Ireland Cathedral on Thursday 1 and Friday 2 May 2014.
The workshop held in the Music Hall at 9 Vicars' Hill was the first time that all the adult participants in the project met together. With the help and coordination of creative practitioner Dr Sally Walmsley of SoundMór, they began drawing together the work they have done in previous workshops in preparation for the two performances at the Cathedral in May. The performances themselves are ticketed, to ensure that everyone has a fair chance to be a part of this experience, and tickets are available at the Market Place Theatre, Armagh.
Tickets are free to collect and available to all who wish to attend this momentous occasion in commemoration of the first High King of Ireland and his chosen burial site of Armagh.
In the image: Jill McEneaney, Theatre Director, Market Place Theatre and Arts Centre, representing Armagh City and District Council, the funder of the project; Sally Walmsley, the Project Facilitator; Mark Bailey and Libby McKearney for Armagh Observatory; Carol Conlin, Stephen Day and Ben Argue for Armagh Public Library and No 5 Vicars' Hill; representatives from a range of organisations based in and around the City of Armagh.