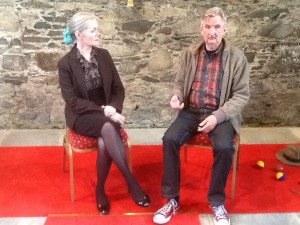 As part of the celebrations leading up to St Patrick's Day, Armagh Public Library will host an event, organised by Armagh City and District Council, on Friday 13 March 2015 at 6.30pm.  The performers will be Billy Teare and Kathleen O'Sullivan, who have gained a considerable reputation as a story and song duo.
Originally from Ballycarry, Billy Teare now lives in Larne.  He has appeared as a storyteller on stage, television, the big screen and radio, and includes songs, music, juggling and a whole host of theatre skills, to complement his original, modern and traditional tales.
Singer Kathleen O'Sullivan was born in the East End of London and learned to sing from her mother. She toured with the female singing group 'The London Lasses' for many years before returning to her musical roots of unaccompanied singing.  Her debut solo album 'Born on St Patrick's Day' was recorded at her own fireside.
Billy and Kathleen have performed together as 'The Storytellin' Man and Songstress' for ten years. They tailor their material to suit the audience, and both children and adults will be welcome.  When asked about their programme for the Armagh venue, Billy said, "We will make reference to St Patrick, by including some traditional songs and some humorous pieces, such as 'Patrick and the Snakes.' Apart from that, we will include a mixture of tales, comedy, juggling, poetry, music, magic, song and more."
The Keeper of Armagh Public Library, the Very Revd Gregory Dunstan, said, "The Library's Long Room is the perfect venue for an event like this.  It has witnessed the stories of those who use it for nearly 250 years.  Wood, plaster, and rows of leather-bound books contribute to an intimate performance space steeped in history.  In what was always intended to be a public library, this evening of Story and Song is another event in its own story."
Tickets at £5.00 per person are available from the Marketplace Theatre Booking Office.  For further information, please contact Armagh Public Library, Abbey Street, by telephoning 028 37523142.