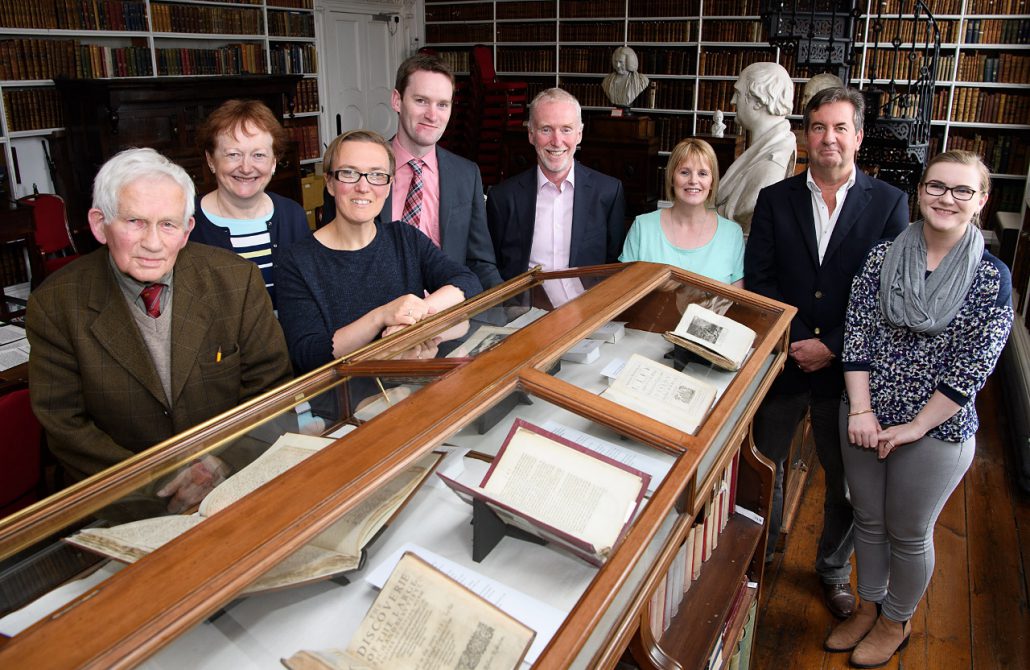 The Library has launched a new temporary exhibition on travel books. The exhibition will run until the end of September 2017. On show are books from the sixteenth to the eighteenth centuries on the subject of travel. The Library's team of Archivist Thirza Mulder and Visitor Assistant Rachel Toner compiled the exhibition and introduced it as follows, "In this day and age it is easy to hop on a plane to travel almost anywhere in the world. It is hard to imagine that there was a time when the only place most people visited was the next town, either on foot, or by cart or carriage!"
They continued, "In the past, travel was very much an activity for the rich. Anyone who lacked the money could be an armchair traveller, able to read a travel book and to be transported to distant lands. This exhibition takes the visitor on their own journey with adventurous travel books, practical guidebooks and reflections on meeting new people. It highlights places, cultures and wonderful fiction novels on travel to exotic and fanciful countries: books that catered for both the wealthy traveller and those who had to stay at home."
Examples on display include records of travel to South America in 1594 in search of gold; a first encounter with a fork as an eating utensil in Italy in the early 1600s; an aerial voyage in England in 1784 which included a cat, a dog and a caged pigeon; and journals on travel in the highlands of Scotland and in Ireland.
Two members of the Library's newly established Management Advisory Committee helped to launch the exhibition: Aubrey Irwin, Head of NI at Tourism Ireland, and Brian Johnston, Head of Tourism, Arts and Culture for Armagh City, Banbridge and Craigavon Borough Council.
Aubrey Irwin said, "This exhibition reminds us that some people travel to enjoy warmth and sunshine but many others are influenced by a desire to find new perspectives and intellectual stimulation. At Tourism Ireland we think of these potential visitors as 'Culturally Curious' and they are our primary focus. They enjoy discovery and getting a very personal holiday experience. This exhibition helps to showcase the hidden gem that is the Armagh Robinson Library. It also gives visitors to Armagh a reason to linger, to dine and to stay in an area that has a wealth of sites to satisfy their curiosity."
Brian Johnston said, "It is timely that this exhibition includes records of travel and walking tours taken by visitors and explorers in different countries over the centuries. It gives a topical link with Armagh City, Banbridge and Craigavon Borough Council's walking tours which are being offered throughout the summer in the City of Armagh. We hope that today's travellers will visit Armagh Robinson Library to see the areas of interest for travellers of yesteryear."
The Library and No 5 Vicars' Hill invite visitors, both local and overseas, to include the Hill of Armagh and its buildings as part of their journey in Armagh.