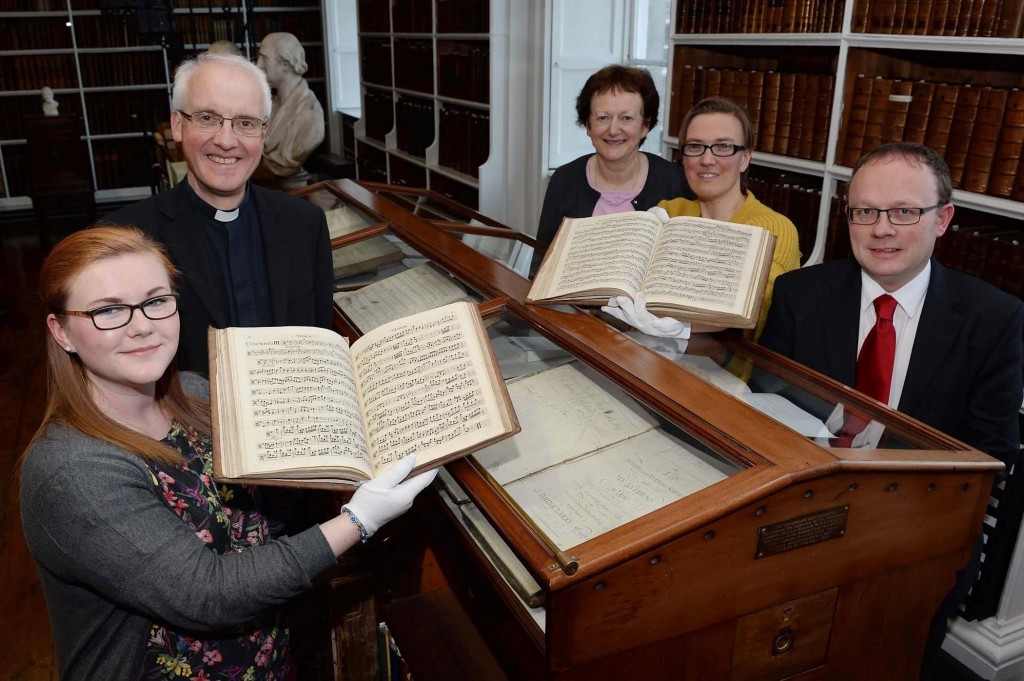 In July 2015 ownership of Armagh Cathedral's Historic Music Collection was transferred to the Library. To mark the occasion, the Library's Archivist, Thirza Mulder, and Library volunteer, Rachel Toner, have produced a small exhibition which will be on display until the end of the year.
The exhibition highlights examples from the Cathedral's collection, and shows how it complements the Library's own collection of hymns, anthems, psalms and secondary works on church music. The Cathedral's collection contains choral and orchestral music from a range of national and international composers who were prominent between the seventeenth and early twentieth centuries. Consisting of more than four hundred volumes, amounting to approximately four thousand pieces, it includes sacred and secular, choral and instrumental music.
While the choral music was mainly used for performances by the Cathedral Choir, the orchestral pieces were performed by local music ensembles, like the Cathedral Orchestral Society and the Armagh Philharmonic Society. The collection provides an insight into the types of music performed and enjoyed by the Cathedral congregation and the wider community of Armagh.
The Keeper of the Library and the Dean of Armagh, the Very Revd Gregory Dunstan, said: "The Cathedral's historic music collection provides a wonderful insight into the music of the Cathedral, and of the City, when its choral establishment was at its zenith. Thirza and Rachel have produced an exhibition which features not only the music but something of the personalities involved, and have brought to it not only the usual archival and interpretive skills, but also the insights of a recent graduate in History from the University of Ulster."