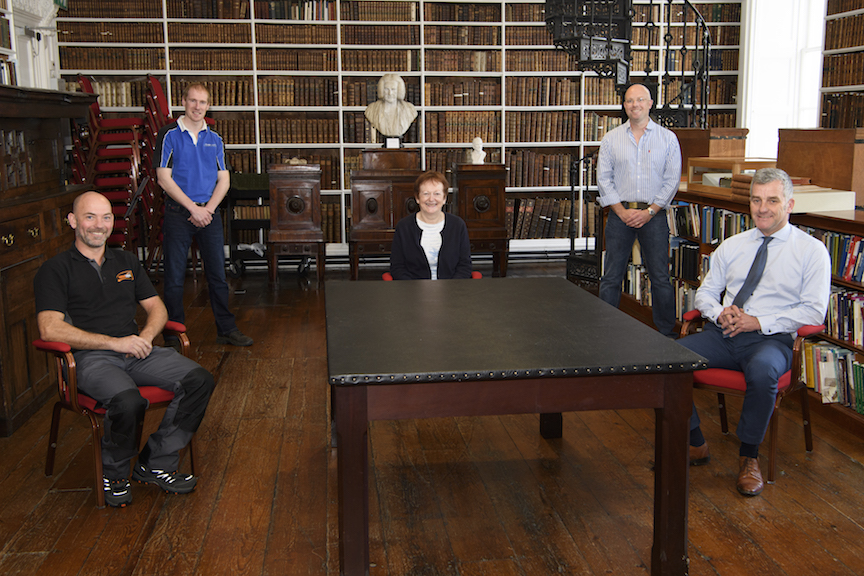 Armagh Robinson Library and No 5 Vicars' Hill, as an independent
library and museum, is grateful for support from several quarters as it
prepares to re-open both its buildings to the public. The National Lottery
Heritage Fund approved the Library's application to its Heritage
Emergency Fund for the purchase of protective and other equipment as
an immediate response to the coronavirus outbreak. A grant of £5,300
has been awarded and used to purchase equipment from several local
Armagh businesses.

Invited to a photo call at the Library in recognition of their support were
representatives of local businesses Crozier Computers, T G Hawthorne
Hardware, Sunset Signs and Trimprint.

Assistant Keeper, Carol Conlin, said, "We were delighted and relieved to
learn that we had been successful in gaining the emergency grant to
cover the cost of equipment, which we could never have expected to
need. In turn, we chose to support our local businesses at this uncertain
time, by placing orders with them for new signage, personal protective
equipment and enhanced Wi-Fi access. We look forward to letting the
public know when we will be ready to welcome them back and to do so
safely."

Seated left: Wesley McCreery for Sunset Signs
Standing left: Eric Crozier for Crozier Computers
Seated: Carol Conlin, Assistant Keeper
Standing right: Jeremy Trimble for Trimprint
Seated right: Geoffrey Hawthorne for T G Hawthornes