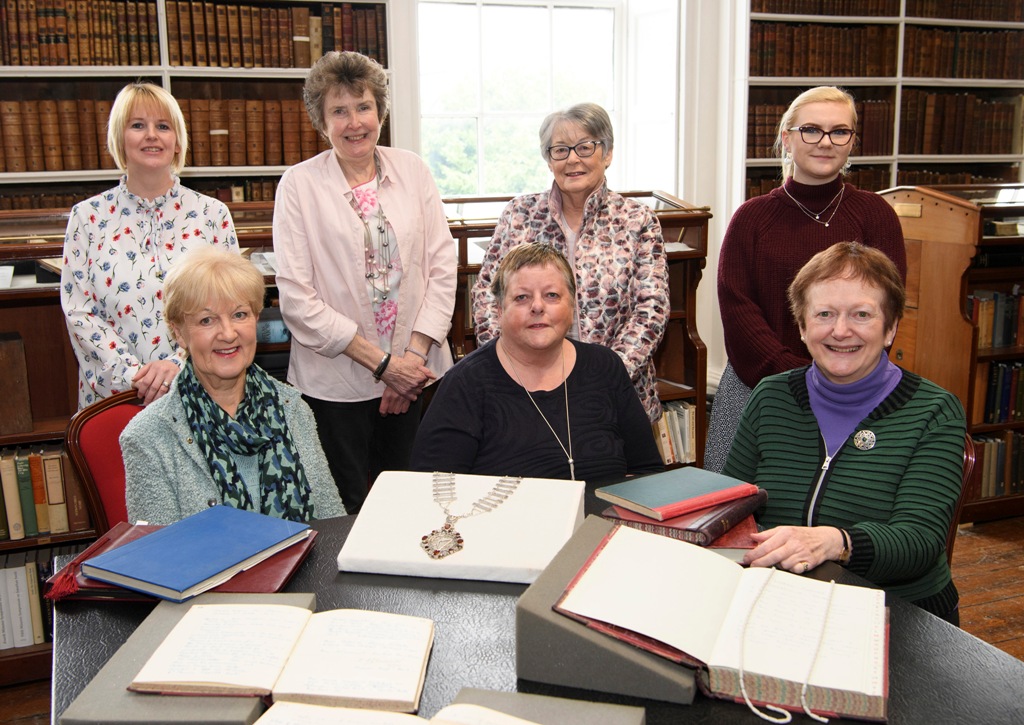 Former members of Armagh Soroptimist Club have agreed to present Armagh Robinson Library with their minute books and other items for safe-keeping and for future research.
The name Soroptimist was coined from the Latin soror meaning sister, and optima meaning best. Soroptimist is perhaps best interpreted as 'the best for women'. From the founding of the first Soroptimist club in Oakland, California, in 1921, through to the present day where over 3000 Clubs are flourishing throughout the world, Soroptimists have continued to strive to achieve 'the best for women' in every sphere of their lives.
Armagh Soroptimist Club was established in 1949 and continued until 2008. A collection of press cuttings and photographs records the broad range of activities which the club undertook during its 59 years.  Members held local meetings and events regularly, including charitable fund-raising, and represented Armagh at divisional, national and international conferences of Soroptimist International.
The records show that some members of Armagh Soroptimists lived close to the Library, in Vicars' Hill.  They also record that in 1971 Archbishop Simms was a guest speaker, who talked about the Book of Kells.  The Keeper of the Library, Dean Lillie, was also invited to speak at the Club in the 1970s.
Speaking at the formal presentation of the books to the Library, Catherine Loney, who was President when the decision was taken to close the Club, said, "We are delighted that this collection of artefacts, including our unique chain of office, will be housed in the Library which holds many records of Armagh. We have chosen this year to make the presentation as it marks the Club's foundation seventy years ago."
In thanking the former members for their gift to the Library, Carol Conlin, Assistant Keeper, said, "While we may imagine that the former members would prefer that the Club was still active, we are very grateful to receive this archive, which reflects the breadth of activities carried out and interests promoted by women in Armagh.  It is fitting to receive these records on International Women's Day, which celebrates women's achievements."
Once the archive has been catalogued, visitors and researchers will be welcome to consult the records.