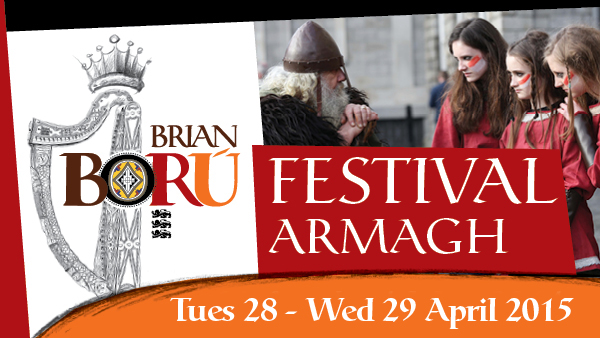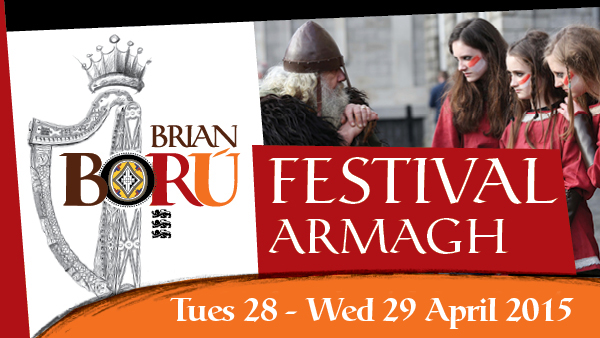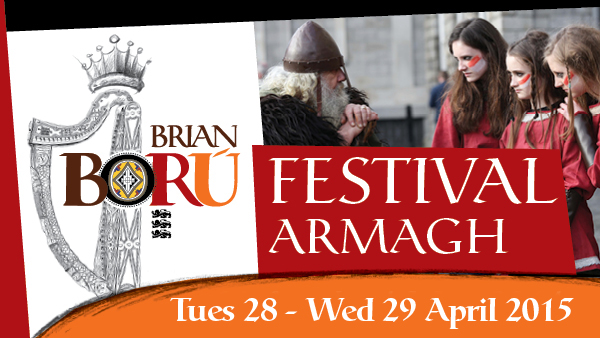 Following last year's community festival when many local Armagh people highlighted the life and death of Brian Boru, this year's festival will build on the experience by offering four events, held over a two-day period on Tuesday 28 and Wednesday 29 April 2015.
The first event, called 'The Waking of Brian Boru – the Poet's Story' will again bring together people of all ages and backgrounds from the Armagh area to create and perform a musical drama telling Brian Boru's story. The performance will take place on Tuesday 28 April 2015 at 7.30pm in St Patrick's Church of Ireland Cathedral, on the Hill of Armagh where Brian Boru is buried. The famous tenth century Armagh poet, Eochaid, will be portrayed as he remembers the course of events which led to his son, the Abbot of Armagh, accepting gold from Brian Boru and thereby changing the course of history. There will be song, dance, drama and music to conjure up memories and images of a time long gone.
The second event will be held in Armagh Public Library and No 5 Vicars' Hill on Wednesday 29 April 2015 from 10.00am. Entitled 'A Glimpse into Brian Boru's World', visitors to the Hill of Armagh will have the opportunity to learn about monastery life and learning in Armagh at the time of Brian Boru. There will be book handling, music and drama.
The third event continuing the theme of Brian Boru's world will be held in Armagh Observatory on Wednesday 29 April from 2.00pm. Visitors will be encouraged to observe the sky as eleventh century people did when they plotted their sailing routes, planned their battles and foretold events. Moments of song, poetry and music will give the last glance of Brian Boru's world before moving to the activities where comparison will be made between today's understanding of the stars with that of Brian Boru's time.
The final event will be a banquet on the evening of Wednesday 29 April 2015 at 7.00pm in the Navan Centre. While feasting, visitors will learn of Brian Boru's successful march through the North when they gathered slaves, livestock, household goods and gold and silver. They will hear about the gift of gold to Armagh, and listen to songs and poetry in praise of Brian Boru, the Last High King of Ireland.
Sally Walmsley, organiser of the Waking of Brian Boru Festival, said, "The story of Brian Boru and his links to Armagh is one of passion and love. It caught the interest of people last year so it is wonderful to be able to harness this energy and create a new performance with local people of all ages and offer participatory events to bring a wider public into the enthralling world of Brian boru."
Tickets for each events are available from www.armagh.co.uk/brianboru2015 or Armagh Visitor Centre 0283 7521800.