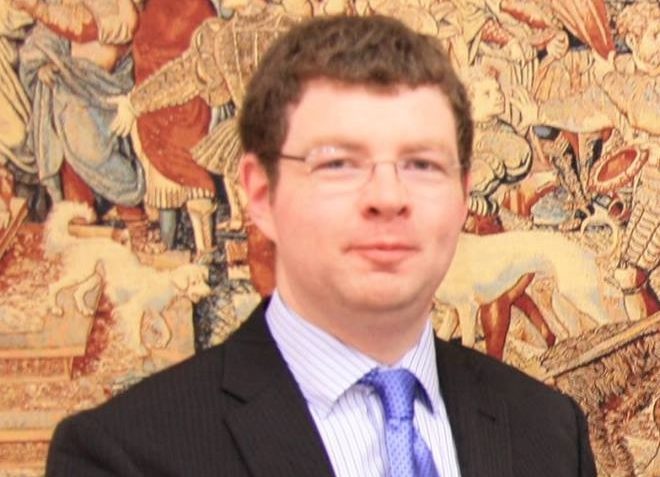 Armagh Robinson Library is pleased to announce the appointment of Dr Robert Whan as Keeper, to succeed the Very Revd Gregory Dunstan.
Dr Whan is currently Assistant Keeper of Collections at Down County Museum and previously co-ordinated various projects for Newry and Mourne Museum. In 2016 he was responsible for the design and delivery of the 'Remembering 1916' programme in the Ulster American Folk Park, the Ulster Folk and Transport Museum and the Ulster Museum. A Fellow of the Royal Historical Society, Dr Whan has a PhD from Queen's University Belfast and has taught history at Queen's and at the University of Ulster, where he was Lecturer in Early Modern Irish History.
The new Keeper's post will initially be supported with a Resilience Grant from the Heritage Lottery Fund, helping to develop new audiences and to raise the profile of this historic library at the heart of Armagh, the oldest library open to the public in Northern Ireland.
Welcoming him to the Library, Dr Richard Clarke, Archbishop of Armagh and Chairman of the Library's Governors and Guardians said, "I am delighted that Dr Whan has accepted this appointment. He will bring new skills to the leadership of the Library's dedicated staff team. This marks an exciting stage in our plans for the development of the Library, and we are most grateful to the Heritage Lottery Fund for its support."
Paul Mullan, Head of Heritage Lottery Fund Northern Ireland said, "This is another exciting step forward for the Armagh Robinson Library and their resilience programme. The Resilient Heritage grant programme has been designed to support organisations who look after and manage our heritage. The Library is an absolute treasure trove of important collections residing inside a fabulous historic building and is open to the public free of charge. The building and the collections need work and support to protect them for the future. Over the past few years the library has been going through a challenging but exciting programme to ensure that this incredible heritage attraction remains in great shape for current and future generations to enjoy. It is thanks to National Lottery players that we can support these crucial projects"
To make way for Dr Whan, Dean Gregory Dunstan will resign as Keeper, while remaining Dean of Armagh. He said, "The Keeper is effectively the Chief Executive of the Library. Dr Whan's appointment marks the separation of the posts of Dean and Keeper which have been combined since 1924. It gives to the Library the advantages of a professionally qualified head which its historic collections deserve. On behalf of the Governors and Guardians, I look forward to working with Dr Whan as he takes up his post."
Dr Whan said, "I am pleased to accept this post and very much look forward to working with the Library's outstanding collections and its dedicated staff and volunteers. It is an exciting time to be joining the Library as it approaches its 250th anniversary and an honour to have the opportunity to lead this unique and special place into a new chapter in its history."