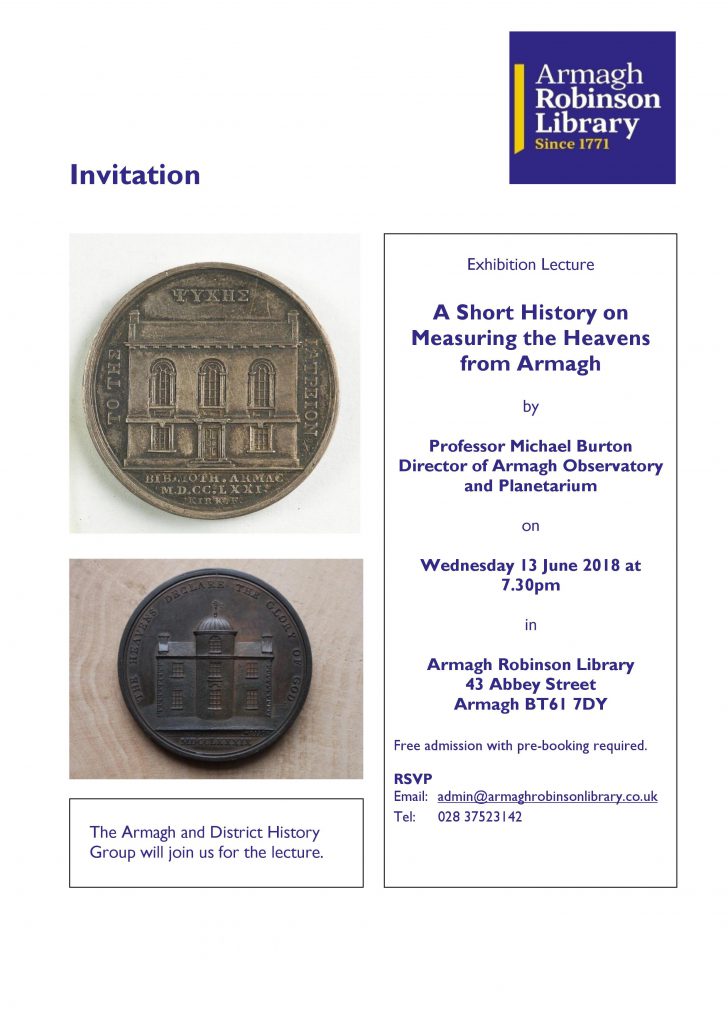 The Library will host a lecture by Professor Michael Burton, Director of Armagh Observatory and Planetarium on Wednesday 13 June 2018 at 7.30pm.  The title of the lecture is 'A Short History on Measuring the Heavens from Armagh'.
In the eighteenth and nineteenth centuries, the work of the astronomer was focussed on the accurate measurement of the positions of celestial objects.  Armagh Observatory played a leading role in the development of the science over this period.
In speaking ahead of his lecture, Professor Burton said, "I aim to give an overview of some of the pioneering contributions made using the telescopes, which, remarkably, still exist in situ in Armagh today. This painstaking work helped lead to the comprehensive picture we have of the heavens today." He continued, "The second part of my lecture will demonstrate aspects of the celestial clockwork – the understanding we now have of the motions and cycles we see in the cosmos around us."
The lecture is being held to coincide with the temporary exhibition which shows a selection of works on astronomy from the Library's own collection, and more examples will be on view during the evening.
The Very Revd Gregory Dunstan, Keeper of Armagh Robinson Library, said, "Armagh Observatory and Library have a common founder in Archbishop Richard Robinson.  The lecture and exhibition are being held to celebrate the 50th anniversary of Armagh Planetarium and the continuing links between these institutions.  We look forward especially to welcoming members of Armagh and District History Group who are joining us for the evening".
The lecture has free admission with pre-booking requested.  To book a place, please contact Armagh Robinson Library on telephone 028 3752 3142.