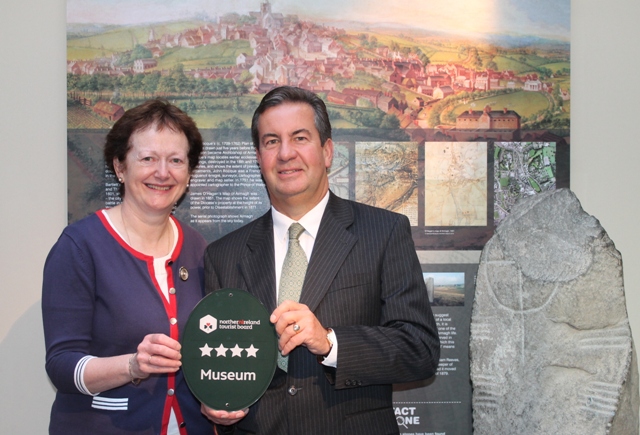 We are delighted to announce that Armagh Public Library and No 5 have retained their four star grade within the Northern Ireland Tourist Board's Quality Grading Scheme.
A mystery visitor came to both our buildings and, after viewing the contents and information in both places, he  reported in his own words, "You richly deserve to retain the four star grade".  Having gone through the various categories on which he graded us, the mystery visitor made one recommendation and that was to carry on our website examples of comments from our visitors, from our visitors' books and from Tripadvisor.  Our Archivist has added some of these to the 'About the Library' and 'About No 5 Vicars' Hill' sections, so please have a look.
The Library team of Carol Conlin, Thirza Mulder and Dean Gregory Dunstan were joined by Sonia Ritchie who maintains the Library to the high standard of cleanliness which was mentioned by the mystery visitor.  Carol joined Stephen Day in No 5 to mark the third year of four star status.