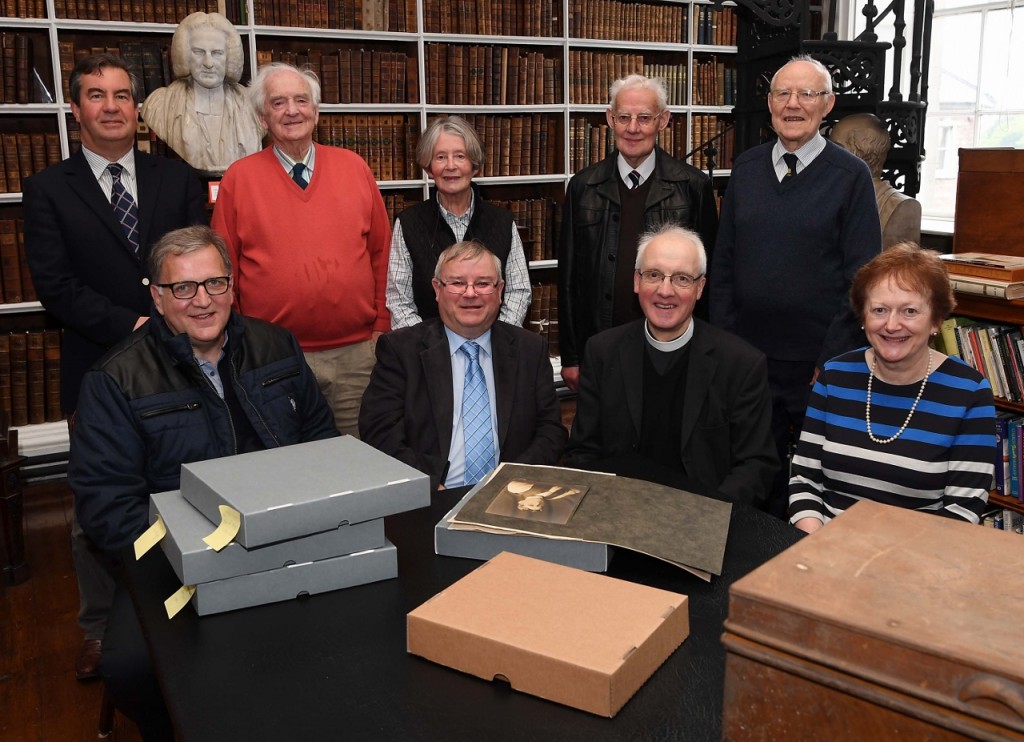 Seated from left:
Barrie Elkin (Grants Manager for EB (Northern Ireland) Ltd), Jim Graham (Director EB (Northern Ireland) Ltd), Dean Gregory Dunstan (Keeper), Carol Conlin (Assistant Keeper)
Standing from left: Stephen Day (Registry Officer), Stephen Hartley, Zena Dawson, Eric Marshall, Harry Carson (Library volunteers)
Armagh Public Library has gained funding for the Gregg Legacy Project.  EB (Northern Ireland) Ltd has awarded the Library a grant of £22,543 to undertake the archiving of papers belonging to Archbishop John Allen Fitzgerald Gregg.
The project will be carried out by the Library's Archivist, Thirza Mulder, in a part time capacity, over a two-year period.  Her work will involve cataloguing, digitising and packing in museum-quality storage material the archive of JAF Gregg (1873-1961), Archbishop of Armagh and Primate of All Ireland, 1939-59.  Ordained Bishop in 1916, Gregg's episcopate spanned Irish partition and two world wars. A distinguished academic, a controversialist, an authority on faith and practice within the world-wide Anglican Communion, and a Senator in the post-independence Irish Parliament, Gregg's archive reflects times of turmoil and change.
The archive, which spans Gregg's lifetime, as well as pre-dating it, contains personal documents, correspondence, photographs, newspaper cuttings and sermons relating to Archbishop Gregg, as well as to other Gregg family members.
The Gregg Legacy Project will protect and preserve the contents of the archives.  It will also enable researchers to access original material, including insights from someone with a central role in Church and state during times of change and uncertainty, not least the Partition of Ireland in the 1920s.
Mr Jim Graham, Director of EB (Northern Ireland), said of this project, "We are delighted to be able to assist the Library to preserve and make available this valuable information resource."
The Keeper of Armagh Public Library, the Very Revd Gregory Dunstan said, "This year marks, amongst many other things, the centenary of Gregg's consecration as a bishop, so it is most appropriate that the opening up of his archive should be begun at this time.  For their contributions to the project, we are most grateful to EB (NI), as well as to the Esme Mitchell Trust and the Northern Ireland Museums Council who have funded the storage materials.  The archive will become a valuable new source for scholars researching the Church's involvement in some critical years of our history."