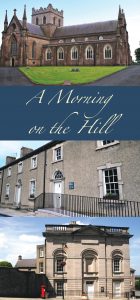 Rachel Gamble, a final year primary education student at Stranmillis College in Belfast, is on a student placement with us. She has sent out an invitation to local schools to take part in 'A Morning on the Hill' visit. Her work is much appreciated by the team: we have already had our first booking request!
'I am writing to invite you and your school to take part in a 'Morning on the Hill' visit to the Hill of Armagh during 2018. Several schools in the city have already established this as a much-anticipated annual visit and we hope that this will continue. We would also encourage local schools to consider a visit as part of the 'World Around Us' or 'Environment and Society' Areas of Learning within the Primary and Post-Primary Northern Ireland Curriculum.
My name is Rachel Gamble and I am a final year primary education student at Stranmillis College in Belfast. I am undertaking a two week placement in Armagh Robinson Library and after gaining first-hand experience of the excellent work that takes place here, I would like to extend a personal invitation to your pupils to come and discover it for themselves. (Please note that the Library has undergone a change of name, and is no longer known as Armagh Public Library, but rather Armagh Robinson Library.)
The Curriculum requires that pupils explore the past, including their local history, advances in communications and the effect of people on the built environment over time. A 'Morning on the Hill' addresses these requirements in a practical, interactive and cross-curricular fashion, and feedback has been extremely positive from previous visiting groups. Pupils love viewing the collections, handling old books and expanding their knowledge of the rich history of their local area…………… 
Visits are welcome from KS1, 2 or 3 school groups, and the visit can be tailored to complement current study projects if desired. The visit is free of charge.

We are keen to welcome pupils from your school and hope that you enjoy your visit. Please do get in touch if you have any queries.'
We thank Rachel for this proactive work and have already had our first request for a booking.
Morning on the Hill invitation