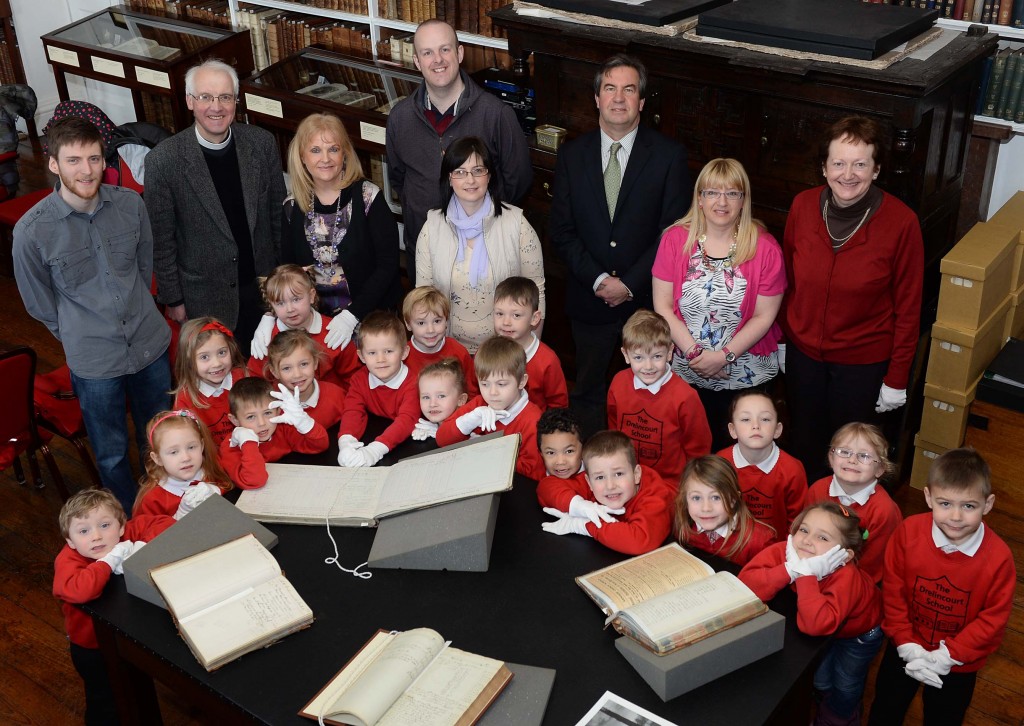 From left to right: Ben Argue (volunteer APL), Gregory Dunstan (Keeper APL and Vice-Chairman of the Governors of the Drelincourt School), Sylvia Brookes (Principal of the Drelincourt School), Leigh Vage (guide Cathedral Steward), Sharon Walker (teacher), Stephen Day (Registry Officer) Mrs Sonia Ritchie (classroom assistant), Carol Conlin (Assistant Keeper APL), and all the pupils of the Drelincourt School
Image credit and copyright: Ian Maginess
The 'Morning on the Hill' initiative, held on the historic hill of Armagh, is designed for schools and groups so that they can gain a comprehensive experience of what is on offer at Armagh Public Library, No 5 Vicars' Hill, and St Patrick's Church of Ireland Cathedral.
Staff and pupils from Drelincourt School took up the invitation to spend a 'Morning on the Hill' and began their visit at Armagh Public Library, the oldest library in Northern Ireland. The Library dates back to 1771 and holds much earlier materials within its collections. A notable aspect of Drelincourt School's visit to the Library was access to books relating to the School itself, including an accounts book detailing the School's expenditure of two centuries ago. When possible, the Library will have available material relevant to a particular school or group.
The visit to the old Diocesan Registry, built in 1772, at No 5 Vicars' Hill, allowed the children to enjoy both the building and the historical objects on display, including ancient coins, 18th century prints and an Ogham stone, a rare example of this early form of Irish writing in the area. Finally they were able to view the Cathedral, the story of which dates back to 445 AD. They saw pre-Christian stone carvings, a 13th century crypt and a working cathedral, all on the site chosen by Ireland's High King Brian Boru to be his lasting resting place.
Welcoming the school's visit, the Very Revd Gregory Dunstan, Dean of Armagh and Keeper of Armagh Public Library said, "The Drelincourt School has had a connection with the Cathedral ever since its foundation by Mary Drelincourt, the wife of the Huguenot Dean whose monument still stands in the north aisle. Archbishop Robinson, who founded the Library, would have been delighted to see a new generation of scholars coming through its doors."