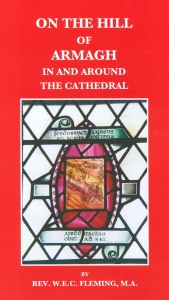 The Library, in association with the Friends of Armagh Cathedral, will host a launch of Canon W E C Fleming's latest book, entitled 'On the Hill of Armagh – In and Around the Cathedral.' The launch will take place on Wednesday 13 April 2016 at 7.30pm in Armagh Public Library.
Canon Fleming writes, "The Hill of Armagh is one of the best documented places on the island of Ireland, with fascinating records of a Christian presence since Patrician times.  It has witnessed many adversities, yet always kindled the great eternal hope."  In referring to his new publication, he says, "A number of topics relating to St Patrick's Cathedral Armagh and its precincts are here presented, with the hope that they may be of some interest to the reader. They relate to lesser known personalities and facts, which, over the years, have helped to mould the Cathedral's unique identity and may also serve to underscore the rich Christian heritage on the hill of Armagh."
The Very Revd Gregory Dunstan, Dean of Armagh and Keeper of the Library says, "In this, his latest book, many of the threads of Canon Fleming's life come together – his scholarship as an historian, his interest in genealogy, his ministry in the Diocese of Armagh, and his love of the Cathedral.  He writes of things that we see every day and of things that we need to see again with fresh eyes, always with a passion for accuracy and detail.  I am delighted that he is bringing this wealth of knowledge to light."
The book is priced at £10.00 and all monies received from the sale of the book will be given to the funds of the Friends of Armagh Cathedral.  The Library is hosting the event and the Friends will provide refreshments.  To help with numbers, please indicate attendance by telephoning the Library on 028 37523142 or by e-mailing at admin@armaghpubliclibrary.co.uk.