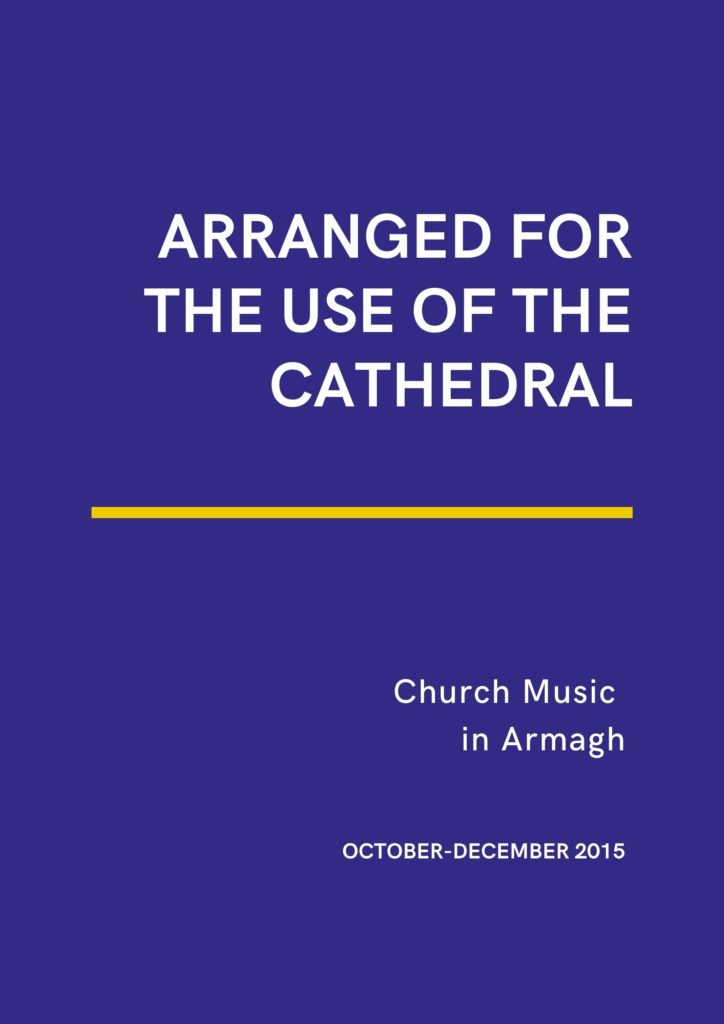 This book exhibition highlights important examples from the Cathedral Choir Collection, as well as examples from the selection of books on church music held in the Library.
---
The Armagh Cathedral Collection
The Armagh Cathedral Collection consists of 429 volumes, containing around 4,000 pieces of music, which include sacred and secular, instrumental and choral music from a range of national and international composers prominent between the 17th and 20th centuries.
Pieces from the collection would have been performed from around 1850 to the late 1950s. While the choral music was mainly used for performances by the Cathedral choir, the orchestral pieces were performed by local music ensembles, like the Cathedral Orchestral Society and the Armagh Philharmonic Society.
The collection provides an insight into the types of music performed and enjoyed by the Cathedral congregation and also the wider community of Armagh.
In July 2015 ownership of the Armagh Cathedral Music Collection was transferred to Armagh Public Library, now Armagh Robinson Library.
To mark the occasion, this exhibit highlighted important examples from the Cathedral collection, as well as examples from the large selection of books on church music held in the Library.
---
Click on the images to view a stand-alone version.
1
TITLE
Messiah. An Oratorio In Score As It Was Originally Perform'd.
COMPOSER
George Frideric Handel
PLACE OF PUBLICATION
London
PUBLISHER
Wright
YEAR OF PUBLICATION
[1785-1801]
OBJECT ID
Armagh Cathedral Collection, Volume 29
German-born British Baroque composer George Frederic Handel (1685 – 1759) is responsible for one tenth of the compositions in the Armagh Cathedral Collection.
Handel composed Messiah in 1741 and first performed it in Dublin in 1742. It is one of his most famous compositions, gaining almost instant popularity after its performance.
*
The title page of the Cathedral copy features the names of various musicians who worked with the piece in Armagh.
Robert Turle was Organist of the Cathedral and Master of the Choristers from 1822 to 1872. He was responsible for the training and musical education of many distinguished musicians. During his tenure the Choir was considered one of the best in Ireland and Britain.
Thomas Osbourne Marks was both Organist of the Cathedral from 1872 to 1916 and conductor of the Armagh Philharmonic Society.
It is thought that he may have been responsible for bringing some of the instrumental pieces into the Cathedral's Collection.
---
2
TITLE
Lord thou hast been our refuge
COMPOSER
Richard Langdon
PLACE OF PUBLICATION 
[s.l.]
PUBLISHER 
[s.n.]
YEAR OF PUBLICATION
1782-94
OBJECT ID
Armagh Cathedral Collection, Volume 37
English-born composer and organist Richard Langdon (1730-1803) was the Organist of the Cathedral from 1782 to 1794. He composed many anthems and hymns, ten of which can be found in the Armagh Cathedral Collection.
Langdon was one of many composers who wrote a melody for the anthem Lord thou hast been our refuge, based on Psalm 90.
*
The manuscript copy of this anthem in the Cathedral's Collection bears all the marks of a well-used working collection. The pages contain musical annotations, references to dates and names, and the corners are well-thumbed.
---
3
TITLE
A Morning and Evening Service with Six Anthems in Score […]
COMPOSER
John Clarke Whitfield
PLACE OF PUBLICATION
London
PUBLISHER
Broderip & Wilkinson
YEAR OF PUBLICATION
1800-1810
OBJECT ID
Armagh Cathedral Collection, Volume 7

John Clarke Whitfield succeeded Richard Langdon as Organist of Armagh Cathedral from 1795 to 1797.
Born John Clarke, he took on the name Whitfield in 1814, after the death of an uncle from his mother's side, Henry Fotherley Whitfield.
While Clarke Whitfeld edited works of other composers, he was an important composer of religious music and songs. The Cathedral's collection contains 47 of his compositions.
*
This copy of A Morning and Evening Service with Six Anthems belonged to chorister Jocelyn Marks, son of Organist Thomas O. Marks, in 1887.
The inscriptions in this copy prove that there is very little difference between young people then and now. Jocelyn Marks shows pride and cheekiness in equal measure. His name appears several times on the pastedown and title page, as well as the facts that he is the 'solo boy' of Armagh Cathedral, and the son of the Organist. He cannot resist an impish change of the composer's name and title on the title page…
---
4
TITLE
A Catalogue of the Armagh Cathedral Collection (St Patrick's Church Of Ireland Cathedral Music Collection)
AUTHOR
Anne Dempsey
PLACE OF PUBLICATION
Belfast
PUBLISHER
Queen's University
YEAR OF PUBLICATION
2003
OBJECT ID
P002428837 

In 2003 Anne Dempsey wrote a Master's Dissertation in Music on the Armagh Cathedral Collection. At the time the music collection was stored in the Library for safekeeping, but lacked a catalogue. Following a suggestion by the then Organist Theo Saunders, Dempsey created this catalogue.
*
The dissertation contains a catalogue of manuscript music, a catalogue of printed music, and several indexes, including those on composers, publishers and arrangers. Ms Dempsey also provides a contextualisation and thus an insight into 19th century Irish Cathedral Music.
---
5
TITLE
Hymns for Little Children
AUTHOR
Cecil Frances Alexander
PLACE OF PUBLICATION
London
PUBLISHER
Walker
YEAR OF PUBLICATION
1848
OBJECT ID
P002473908
Cecil Frances Alexander was a poet and prolific hymn-writer, who wrote about 400 hymns. She married the Revd William Alexander in 1850, who later became Archbishop of Armagh and Primate of All Ireland.
Mrs Alexander was involved in charitable work throughout her life. Amongst others she founded a small school for deaf children with her sister Anne, and the Girls' Friendly Society in Derry.
*
In 1848 Mrs Alexander published Hymns for Little Children, which includes three of the most popular hymns in the English language: All Things Bright and Beautiful, Once in Royal David's City and There is a Green Hill Far Away.
The book was published in more than 70 editions and all the profits were donated to Irish charities. The following is the dedication in the book:
To my little godsons, I inscribe these simple lines, hoping that the language of verse, which children love, may help to impress on their minds what they are, what I have promised for them, and what they must seek to be. C.F.A.
---
6
TITLE
Deck the Hall
AUTHOR
Charles Wood
PLACE OF PUBLICATION
London
PUBLISHER
H.F.W Deane & Sons
YEAR OF PUBLICATION
1927
OBJECT ID
P002472855
Composer and music teacher Charles Wood was born at 11 Vicars' Hill, Armagh in 1886. He was a chorister at the Cathedral and studied the organ with both Turle and Marks. While he is best known for his classical compositions, he also wrote musical ballads, carols and folk songs.
He was co-founder of the Irish Folk Song Society in 1904 which encouraged research and publication of traditional Irish music. His collaboration with poet George Ratcliffe Woodward resulted in three volumes of carols, combining traditional melodies with new texts.
*
The Library holds a small collection of 47 of Wood's compositions. The copy of Wood's arrangement of Deck the Hall, a Welsh tune dating back to the sixteenth century, was published in 1927, a year after Wood's death.
---
7
TITLE
Church Hymnal By Permission of the General Synod of the Church of Ireland Set to Appropriate Tunes under the Musical
Editorship of the Late Sir Robert Prescott Stewart, Mus. D. Professor of Music in the University of Dublin
AUTHOR
Robert Prescott Stewart
PLACE OF PUBLICATION
Dublin
PUBLISHER
A.P.C.K.
YEAR OF PUBLICATION
1911
OBJECT ID
P001251283

Dublin-born Robert Prescott Stewart was composer, organist, conductor, and teacher. His compositions include church music, such as cantatas, songs and organ music.
He was amongst others Professor of Music in Dublin University and Professor of Theory in the Royal Irish Academy of Music. In 1872 he was knighted for his services to music.
*
This edition of the 1911 Church Hymnal contains 241 hymns and 39 metrical versions of Psalms. It was presented to the Most Reverend J.B. Crozier when he became Archbishop of Armagh and Primate of Ireland in 1911.
---
8
TITLE
Modern Anthems Supplement to the Anthem Book Armagh Cathedral
AUTHOR
Manuscript
The manuscript contains anthems for use in Armagh Cathedral. It is a supplement to the printed Anthems Selected and Arranged For the Use of the Cathedral of Armagh from 1839.
The printed copy includes composers such as Richard Langdon, John Turle and George Frideric Handel. The supplement copy contains anthems in manuscript from composers such as John Clarke Whitfeld.
*
This manuscript copy was owned by Edward Rogers, who was Deputy Keeper at Armagh Public Library in the latter half of the 19th century.
---