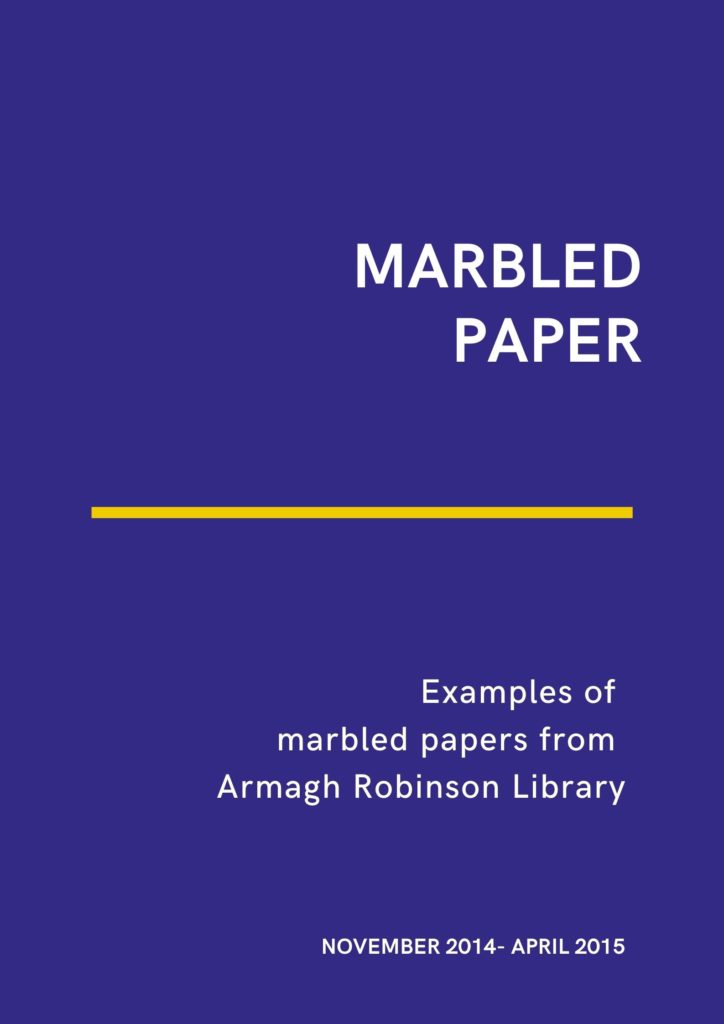 Armagh Robinson Library holds wonderful examples of marbled papers. This exhibition highlights these examples and explains the various techniques used.
PAPER MARBLING
Paper marbling is a method of decorating the surface of paper with a patterned design. The name is derived from the earliest patterns which resemble marble stone.
It is suggested that paper marbling originated in the Far East in the early 12th Century and spread to Europe, where it became popular around the 1600s.
Initially, marbled papers protected the book block against wear and tear, and marbled book edges protected the block against forgery: the removal of pages would show in the pattern. Later, marbled paper would mostly be used decoratively.
A marbled paper is created by adding paints to a shallow tray filled with size, a thick, sticky liquid. The paints are then manipulated with combs, rakes or movement into the desired design. When the design is finished, a sheet of paper will gently be placed upon the size, to allow the paints to transfer. After the paper is lifted, it is dried.
---
Click on the images to view a stand-alone version.
ANTIQUE STRAIGHT
It is suggested that the Antique straight pattern was made as early as the 17th century. This pattern is created by creating a feather pattern, which is then showered with fine (usually white) dots.

TITLE
Inscriptiones Christianae urbis Romae septimo saeculo antiquiores
EDITOR
Giovanni Battista di Rossi
PLACE
Rome
DATE
1857-1861
OBJECT ID
P001203122
---
BOUQUET
The Bouquet pattern first appeared at the end of the 18th century. A Bouquet pattern begins with a Nonpareil base, after which a comb with two sets of teeth is drawn through the bath in loose, wavy lines which causes the Nonpareil lines to fan out.
Title
Ancient and Modern Catalogues of the See Records of Armagh. To Which Is Prefixed a Report on their Present Condition. Armagh MDCCCLX [inserted: Addenda to Reeve's Catalogue of Mss in Primate Registry; Letter from James Leslie on addenda]
Author
Reeves, William, Author (1815 - 1892)
Place
Armagh (UK)
Date
1860
OBJECT ID
P001938572
---
NONPAREIL
The Nonpareil pattern is one of the most basic of all marbled patterns. It is formed by dropping different paints onto the size. A comb is then pulled in through the paint horizontally twice, and then once vertically.
TITLE
Tou en agiois patros ēmōn Athanasiou archiepiskopou Alexandreias ta euriskomena panta = Sancti patris nostri Athanasii archiepiscopi Alexandrini Opera omnia quae extant : vel quae ejus nomine circumferuntur : ad mss. codices Gallicanos, Vaticanos, &c. necnon ad commelinianas lectiones castigata, multis aucta : nova interpretatione, praefationibus, notis, variis lectionibus illustrata : nova sancti doctoris vita, onomastico, & copiosissimis indicibus locupletata : opera & studio monachorum ordinis S. Benedicti e congregatione Sancti Mauri : novissimis nunc curis emendatiora, & quarto valumine aucta.
AUTHOR
Athanasius, Saint Patriarch of Alexandria
PLACE 
Padua
DATE
1777

---
DOUBLE COMB
The Double comb pattern is based on the Nonpareil pattern.
A Nonpareil pattern is combed through once again vertically, this time with a wider toothed comb.
TITLE
Theatre Complet de J.-B. Poquelin de Molière
AUTHOR
Jean-Baptiste Poquelin de Molière
PLACE 
Paris
DATE
1882
---
DAHLIA
The Dahlia pattern is created, firstly by making a Zebra pattern. Large drops of ink are dropped on the size. The drops are combed in a straight line twice. Large drops of ink are then splattered on. Secondly, for the Dahlia pattern, more colours are lightly splattered on top of the Zebra pattern.
TITLE 
Doctrina numorum veterum conscripta 
AUTHOR
Joseph Eckhel
PLACE
Leipzig
DATE
1826
TITLE 
The History of Rome 
AUTHOR
B.G. Niebuhr
PLACE
London
DATE
1855
---
PAPIER COULÉ
Papier Coulé is created by covering a paper with a thin layer of coloured paste. A second colour of paste, diluted, would then be sprinkled on to the first colour. The paper would then be tilted, and the still wet paste colours would run to form the pattern.
TITLE
Account of Books Borrowed from the Public Library in Armagh
CREATOR
Armagh Robinson Library
DATE
1796-1802

---
PLACARD
The Placard pattern might be one of the first marbled patterns created and was used for book decoration in France between 1680 and 1740. The pattern appears to be a combination of elements which later formed the basis of other patterns.
TITLE
Commentaire Litteral Sur Tous Les Livres de L'Ancien et du Nouveau Testament : Ezechiel, et Daniel
AUTHOR
Augustin Calmet
PLACE
Paris
DATE
1716
---
FRENCH SHELL
The French Shell pattern in this example is created, firstly by dropping blue ink, mixed with ox gall, into the size. The ox gall makes sure that the ink flows out evenly into large drops. A red ink, mixed with some oil, is then dropped on, applying medium sized drops. The red ink will drive the blue ink into veins, while the oil in the red ink will create a small white outline.
TITLE
Quinti Septimii Florentis Tertulliani Opera Quae Supersunt Omnia
AUTHOR
Franciscus Oehler
PLACE
Leipzig
DATE
1853

---
FRENCH CURL
The French Curl is created with a Turkish pattern, which is made by throwing drops of several colours onto the size. The first colours narrow with the addition of other colours and become the 'vein' colours for the additional inks. For the French Curl pattern, the above pattern is swirled with a stylus or wide toothed comb.
TITLE
Histoire générale des auteurs sacrés et ecclisiastiques : qui contient leur vie, le catalogue, la critique, le jugement, la chronologie, l'analyse [et] le dénombrement des différentes éditions de leurs ouvrages; ce qu'ils renferment de plus intéressant sur le dogme, sur la morale [et] sur la discipline de l'église; l'histoire des conciles tant généraux que particuliers, & les actes choisis des martyrs. Volumes VIII-XXIII
AUTHOR
Rémy Ceillier
PLACE
Paris
DATE
1729-1763 
OBJECT ID 
P001182826




---
SPANISH WAVE
The Spanish Wave pattern is also created with a Turkish pattern. The pattern can be swirled or combed. When the pattern is created, the paper is gently lowered onto the size. The water is then agitated to create a rippled fabric effect.
TITLE
The Holy Bible, translated from the Latin Vulgat: diligently compared with the Hebrew, Greek, and other Editions in divers languages; the Old Testament, first published by the English College at Doway, A. D. 1609; and the New Testament, first published by the English College at Rhemes, A. D. 1582. With Annotations, and an Historical and Chronological index. Revised and corrected according to the Clementin Edition of the Scriptures, and approved of by the most reverend Doctor Troy, R.C.A.D.
AUTHOR
John Thomas Troy
PLACE
Dublin
DATE
1816
OBJECT ID
P000986417
TITLE
Keeper's Reports, submitted to the Governors and Guardians of the Public Library of Armagh, at the Annual Meeting, 1862 -1978
AUTHOR
Armagh Public Library
PLACE
Armagh
DATE
1862 -1978
OBJECT ID
P002267809
---
ROMANTIC
The Romantic pattern was created in Germany in the 18th century. To create the pattern an earthy ground colour would form the first layer on the paper. A glazing paste with caustic elements would then be added, which causes the breaking of the ground colour.
TITLE
Astuatsashunchʻ Girkʻ Hin ew Nor Ktakaranatsʻ : ebrayakan ew hunakan bnagirnerēn tʻargmanuats = The Holy Bible in Modern Western Armenian
AUTHOR
H.G.O. Dwight
PLACE
Istanbul
DATE
1857
OBJECT ID 
P00118117x
TITLE
Keeper's Reports, submitted to the Governors and Guardians of the Public Library of Armagh, at the Annual Meeting, 1862 -1978
AUTHOR
Armagh Public Library
PLACE
Armagh
DATE
1862-1978
OBJECT ID 
P002267809
---
STORMONT
This pattern is started with a Turkish base. One or more colours would then be mixed with a dispersant, such as turpentine, and thrown onto the bath. These dispersant-mixed colours will appear to be covered with tiny holes.
TITLE
The Works of the Right Rev. William Warburton, Lord Bishop of Gloucester
AUTHOR
William Warburton
PLACE
London
DATE
1788
OBJECT ID 
P000999020

---
Further reading
Article by Emma Hassard which accompanied the exhibition.
Resource for types and techniques of decorated papers from the University Libraries Univistriy of Washington.