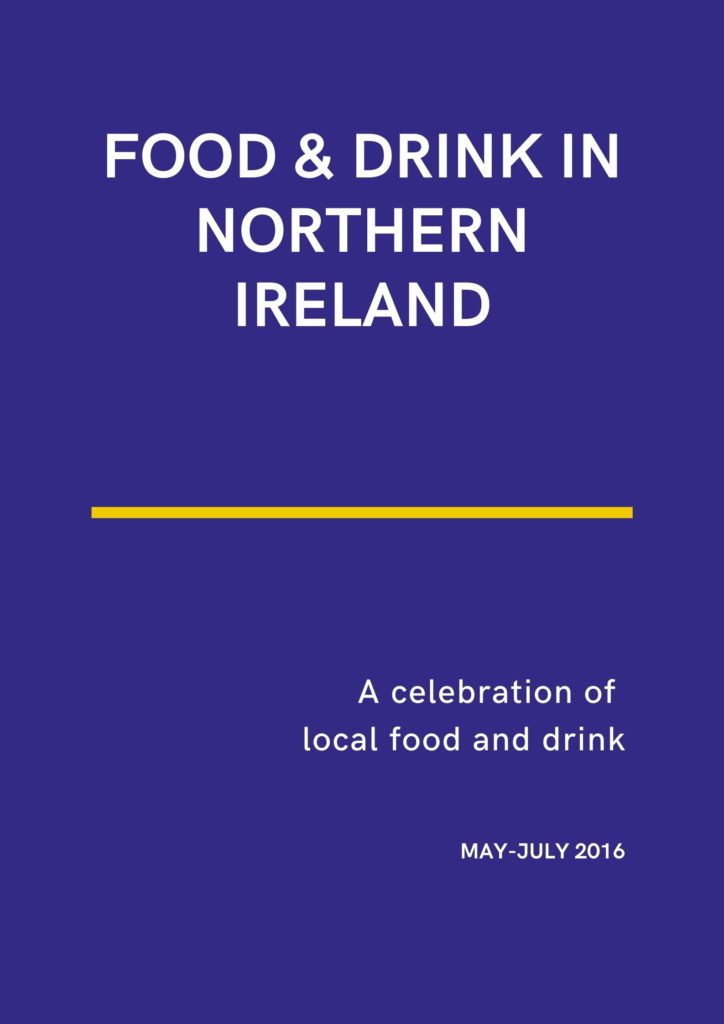 This book exhibition marked 2016 as the 'Northern Ireland Year of Food and Drink', a celebration of local food and drink, promoted by Tourism NI.
---
The history of food and drink is an important element of our cultural inheritance. It shows the place of food and drink in the society, economy and environment of a country, and in the lives of its people.
The Library's collection contains many references relating to the production and consumption of food and drink.
The texts on display highlight different types of food and drink from the whole island of Ireland. They also show how recipes were used by cooks and satirised by others.

---
1
TITLE
An Itinerary Written By Fynes Moryson […] Containing His Ten Yeeres Travells
AUTHOR
Fynes Moryson
PLACE OF PUBLICATION
London
PUBLISHER
John Beale
YEAR OF PUBLICATION
1617
OBJECT ID
P001127930

Fynes Moryson spent most of the 1590s travelling through Europe and the Mediterranean. This work is still used by historians as a source for social conditions in the countries and places he visited.

Moryson is scathing about the Irish and their diet, with comments like
Thy meates [sic] rawness and women's nakedness
and
The wild Irish […] are barbarous and most filthy in their diet.
---
2
TITLE
A Tour in Ireland with General Observations on the Present State of the Kingdom
AUTHOR
Arthur Young
PLACE OF PUBLICATION
London
YEAR OF PUBLICATION
1718

Arthur Young was an English writer on agriculture, economics, social statistics, and a campaigner for the rights of agricultural workers.
He wrote some 25 books and pamphlets on agriculture and a further 15 on political economy. Young travelled widely in Ireland, England, Wales and France.
His comments on the agriculture of Armagh show that the farms were 'very small' and mainly grew corn. Young also informs us about the general diet in the county:
Their food [consists] principally [of] potatoes and oatmeal, very little meat.
---
3
TITLE
Works of the English Poets With Prefaces, Biographical and Critical. 
AUTHOR
Samuel Johnson
PLACE OF PUBLICATION
London:
PUBLISHER 
[s.n.]
YEAR OF PUBLICATION
1779
OBJECT ID
P001110337
This collection of poetry arranged by Samuel Johnson contains the various works of English writers including William King.
William King was born in London in 1663 and moved to Ireland in 1702. Here he took up various posts, including Vicar-General to Narcissus Marsh, the primate who founded Marsh's Library in Dublin.
King was known for his humorous and satirical writing, while his education and background show in his many references to classical literature.
His poem, The Art of Cookery is a satire in reply to Martin Lister's edition of Apicius De Re Coquinaria, a collection of 4th-5th century cookery recipes. This edition was publicly criticised by King and other satirists, especially for referring to contemporary English cookery. King based his work on Horace's Ars Poetica, replacing advice on the art of writing poetry and drama with advice on the art of cooking.
---
4
TITLE
Directions to Servants in General; And In Particular to the Butler, Cook, Footman, Coachman, Groom
AUTHOR
Jonathan Swift
PLACE OF PUBLICATION
London
PUBLISHER
Robert Dodsley
YEAR OF PUBLICATION
1745
OBJECT ID
P001070521

Armagh Robinson Library houses many works by Jonathan Swift. He was a satirist, poet and clergyman who became Dean of St. Patrick's Cathedral in Dublin.
Directions to Servants is a humorous essay in which Swift criticises the rules and regulations of 18th century English society by giving absurd advice to the many servants who would be employed in a large household.
Some examples of his advice to the cook are:
Never send up a leg of a fowl at supper, while there is a cat or a dog in the house that can be accused of running away with it.
and
If a lump of soot falls into the soup, and you cannot conveniently get it out, stir it well in, and it will give the soup a high French taste.
---
5
TITLE
On the Manners and Customs of the Ancient Irish
AUTHOR
Eugene O'Curry
PLACE OF PUBLICATION
London
PUBLISHER
W.K. Sullivan
YEAR OF PUBLICATION
1873
OBJECT ID
P001005959
Eugene O'Curry was an Irish antiquarian and philologist, an expert in the language found in historical sources, during the 19th century.
In Manners and Customs of the Ancient Irish, he discusses traditional food and drink in ancient Ireland, as well as its agricultural background.
In the margins of the text, brief references are made to different types of food discussed in the main text. On these pages they include wheat, corn, barley and yeast.
Nearly half of the text is reserved for the main beverage of the ancient Irish: beer. O'Curry includes a curious ancient poem celebrating the various ales of Ireland. One stanza goes:
I have not tasted a juice to be preferred
To the ale of Cerna.
---
6
TITLE
Vinetum Britannicum, or a Treatise of Cider, and Such Other Wines and Drinks [...]
AUTHOR
John Woolridge
PLACE OF PUBLICATION
London
PUBLISHER 
[s.n.]
YEAR OF PUBLICATION
1676
OBJECT ID 
P001116572
John Woolridge was a noted English agriculturist and was considered an expert on rural affairs. He was one of the first to discuss farming as an industry.
Vinetum Britannicum describes the benefits and profits from fruit trees. Woolridge favours the production of cider over wine, due to the suitability of the British and Irish climate.
The displayed section shows the making of cider, describing the processes in great detail. The following advice is provided to give life to flat cider,
If it hath been over-fermented, and thereby become poor, flat […] then in the bottling if you adde a small quantity of loaf sugar […] it will give a new life to the cider and probably make it better than it ever was before […]
---
7
TITLE
The Gardeners Kalendar […] Works to be Done Every Month in Kitchen, Fruit and Pleasure Gardens
 and Observatory […]
AUTHOR
Phillip Miller
PLACE OF PUBLICATION
Dublin
PUBLISHER 
[s.n.]
YEAR OF PUBLICATION
1732
OBJECT ID
P001327263
Phillip Miller was an English botanist of Scottish descent. He was the head gardener at Chelsea Gardens from 1722 until shortly before his death in 1771.
He wrote widely on botany, and collected plants and seeds from all over the world and introduced them to England.
Miller was the first to describe the transfer of pollen by bees in 1721. The page on display refers to the keeping of bees and the profits of honey, and shows the makeup of a beehive.
Here in Armagh, the importance of honey in the county goes back to the fifth century. Local honey is still produced, and sold in local shops and supermarkets.
---
8
TITLE
Paradisi in sole paradisus terrestris. Or a garden of all sorts of pleasant flovvers vvhich our English ayre will permit
to be noursed up: with a kitchen garden of all manner of herbes, rootes, and fruites, for meate or sause used
with us, and an orchard of all sort of fruit-bearing trees and shrubbes fit for our land: together with the right ordering,
planting, and preserving of them; and their uses and vertues. Collected by Iohn Parkinson apothecary of London.
AUTHOR
John Parkinson
PLACE OF PUBLICATION
London
BOOKSELLER
Richard Royston
YEAR OF PUBLICATION
1635
OBJECT ID
P001393452
John Parkinson was an English herbalist and botanist. He was the royal botanist to King Charles I. He introduced seven new plants to England and was the first in England to grow the Spanish daffodil.
This book contains some excellent drawings of plants, including saffron, which has been used for 4,000 years as a treatment for over 90 illnesses.
In Ireland saffron was seen as an expensive commodity and an indulgence by those who could afford to use it, both in cooking and as a dye.
Saffron featured prominently in the Anglo-Irish trade during the 16th century although its use gradually declined.
---
9
TITLE
The Art of Gardening in Three Books
AUTHOR
John Woolridge
PLACE OF PUBLICATION
London
PUBLISHER 
[s.n.]
YEAR OF PUBLICATION
1700
OBJECT ID
P001405930
In The Art of Gardening Woolridge advises on maintaining flowers, the garden itself and different types of fruit and vegetables.
Although this book was published in London, there is a direct reference to the Irish diet which is shown here.
The author writes,
Potato's [sic] are much used in Ireland […] and are of themselves also an usual food.
This is a significant statement. The potato was only introduced to Ireland in the late 16th century. By the time this book was published in 1700, the potato had become a staple part of the Irish diet.
---