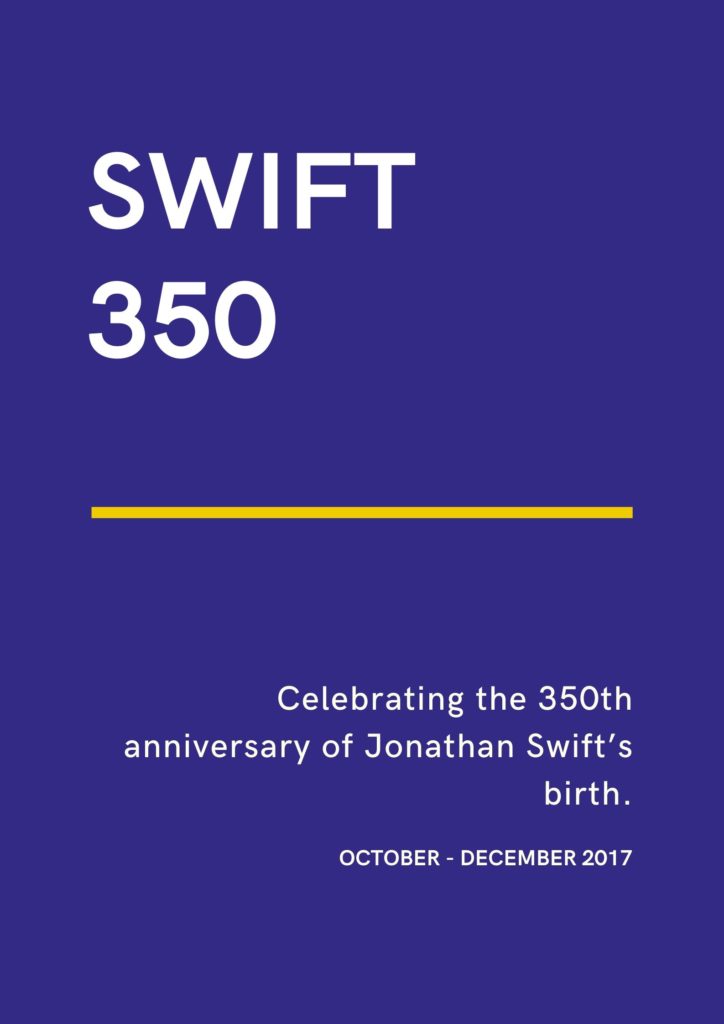 This book exhibition on Jonathan Swift marks the 350th anniversary of Swift's birth.
---
Jonathan Swift was a clergyman in the Church of Ireland and a writer of satire, critical essays, political pamphlets, and poetry. His satirical and ironic style became so well known that other writers' work in a similar style were described as Swiftian. Works on and by Jonathan Swift are still added to Armagh Robinson Library, as one of its main collecting themes.
This exhibition shows examples of the different literary genres which Swift produced: prose, poetry, essays, letters and sermons, as well as some secondary material relating to Swift.
---
1
TITLE

Tale of a Tub, Written for the Universal Improvement of Mankind. To   Which is Added, An Account of the Battle
Between the Antient [sic] and Modern Books in St James's Library [...]
AUTHOR
Jonathan Swift
PLACE OF PUBLICATION
London
PUBLISHER
John Nutt
YEAR OF PUBLICATION
1710
OBJECT ID
P001358517
Swift wrote his first major work, Tale of a Tub, in the 1690s, when he worked as a secretary for statesman and essayist William Temple. This satirical and allegorical parody on religion tells the story of three brothers, who represent the three main branches of Christianity: Roman Catholicism (Peter), Anglicanism (Martin), and Dissenting Protestantism (Jack).
Being a clergyman with very little means, Swift depended upon the support of rich patrons to earn a living. As these patrons were also responsible for Church matters, Swift usually published anonymously to protect his career and his person! Some readers suggested that the work was, in fact, written by Swift's employer, William Temple.
---
2

TITLE
 The Grand Question Debated: Whether Hamilton's Bawn Should be turn'd [sic] into a Barrack or a Malt-House
 AUTHOR
Jonathan Swift
PLACE OF PUBLICATION
London
PUBLISHER
George Faulkner
YEAR OF PUBLICATION
1732
OBJECT ID
P001321842
Jonathan Swift visited Markethill several times between 1728 and 1730. He stayed with his friend Sir Arthur Acheson on an estate which is now Gosford Forest Park. The poems which Swift wrote during these visits are known as the Markethill Poems.
In The Grand Question Debated, Lord and Lady Acheson debate what use they could find for the bawn on their estate, an enclosure with stone or mud walls. Lord Acheson wants to turn it into a malt house which would make him a profit, while Lady Acheson wants a military barracks in the hope it would provide far more pleasant guests than Swift who often over-stayed his welcome.
Swift always maintained that the Markethill poems were written for his own amusement, and not for publication. Some critics, however, think that Swift wrote the poem to criticise the large increase in government spending on the military.
---
3
TITLE
Dean Swift at Sir Arthur Acheson's in the North of Ireland or Lady Acheson Weary of the Dean
AUTHOR
Jonathan Swift
PLACE OF PUBLICATION
Dublin
YEAR OF PUBLICATION
1735
OBJECT ID
 P001197181
As in The Grand Question Debated, in Dean Swift at Sir Arthur Acheson's in the North of Ireland Swift makes fun of both himself and his hosts. He appears not to have been an ideal house guest!
Lady Acheson's annoyance with Swift for outstaying his welcome and ignoring any of her hints to leave, becomes very clear:
After a Week, a Month, a Quarter,
And Day succeeding after Day,
Says not a Word of his Departure
Tho' not a Soul would have him stay.
I've said enough to make him blush
Methinks, or else the Devil's in't,
But he cares not for it a Rush,
Nor for my Life will take a Hint.
---
4

TITLE
Cadenus and Vanessa. A Poem.
AUTHOR
Jonathan Swift
PLACE OF PUBLICATION
London
PUBLISHER
N. Blandford; J. Peele
YEAR OF PUBLICATION
1726
OBJECT ID
P001320013
Swift had significant relationships with two women: Esther Vanhomrigh and Esther Johnson, the latter whom Swift called Stella.
Esther Vanhomrigh met Swift in 1707 and entered a relationship with him, despite an age difference of twenty years. In 1723 Esther broke off the relationship, when Swift refused to end his continuing involvement with Stella. Esther died that same year, probably from tuberculosis, but some say that it was of a broken heart.
Swift wrote Cadenus and Vanessa for Esther in 1713, and it was not meant for publication. It was published, however, in 1726, after Esther had stated in her will that she wanted it published.
The names Cadenus and Vanessa refer to Swift, also known as Dean Swift, and Esther. Cadenus is an anagram for the word decanus, which is Latin for the word Dean. The name Vanessa combines the first three letters of her surname and a version of her pet name Esse. Swift was responsible for creating the name Vanessa.
---
5
TITLE
A Modest Proposal for Preventing the Children of Poor People from being a Burthen [sic] to their parents
of the Country, And for Making Them Beneficial to the Publick [sic]
AUTHOR
Jonathan Swift
PLACE OF PUBLICATION
Dublin
PUBLISHER
[s.n.]
YEAR OF PUBLICATION
1730
OBJECT ID
 P001068918
A Modest Proposal shocks the reader by first describing the horrors the Irish poor suffer, and then by suggesting that the best way to relieve the pain is to sell their children as food to the rich.
A child will make two dishes at an entertainment for friends, and when the family dines alone, the fore or hind quarter will make a reasonable dish, and seasoned with a little pepper or salt.
This essay is thought to be the greatest example in the English language of sustained irony, where we intuitively feel the irony, but cannot indicate the exact words that deliver the irony.
---
6
TITLE
Directions to servants in general : And in particular to the butler, cook, footman, coachman, groom, house-steward,
and land-steward, porter, dairy-maid, chamber-maid, [...]
AUTHOR
Jonathan Swift
PLACE OF PUBLICATION
London
PUBLISHER
Robert Dodsley
YEAR OF PUBLICATION
1745
OBJECT ID
P001070521
In this essay the light-hearted and sometimes ridiculous advice to servants within a large household, mocks and reveals the absurd English social system in the 18th century.
To the Butler, Swift offers the most detailed advice. The advice includes:
[…] since those who dine at the same table are supposed to be friends, let them all drink out of the same glass, without washing […]
If you are curious to taste some of your Master's choice bottles, empty as many of them just below the neck as will make the quantity you want ; but take care to fill them up again with clean water […]
You need not wipe your knife to cut bread for the table, because, in cutting a slice or two it will wipe itself.
---
7
TITLE
A Letter to a Very Young Lady on her Marriage
AUTHOR
Jonathan Swift
PLACE OF PUBLICATION
London
PUBLISHER
C. Bathurst; C. Hitch
YEAR OF PUBLICATION
1751
OBJECT ID
P001206768
When a young friend of Swift married, Swift decided to send the new bride a letter of advice. In the letter Swift hoped that the young bride would avoid the many errors, fopperies, and follies, to which your sex is subject.

He urged her to avoid showing fondness for her husband in front of others, to listen to conversations instead of taking part in them in the company of male scholars, and to control her passion for clothes.
I do not desire you to be out of fashion, but to be the last and least in it.
Needless to say, the advice was not appreciated.
---
8
TITLE

The Hibernian Patriot, Being a Collection of the Drapier's Letters to the People of Ireland, Concerning Mr. Wood's
Brass Half Pence.
AUTHOR
Jonathan Swift
PLACE OF PUBLICATION
Dublin; London
PUBLISHER
A. Moore
YEAR OF PUBLICATION
1730
OBJECT ID
P001133310
In 1722 English mint master William Wood bought a royal patent for coining copper money for Ireland. These coins proved to be extremely unpopular in Ireland.
One of the people objecting to the coins was Swift. He strongly criticised how the patent had been given to an individual Englishman, rather than to the Irish authorities, and how the opinions of Parliament and the general public were ignored in this matter. He supported the idea that Ireland should be institutionally and financially independent from Britain.
Swift wrote a series of letters outlining these issues under the pseudonym Drapier, as this was a rather politically sensitive subject. Public objection against the coins resulted eventually in the recall of Wood's coins.
---
9

TITLE
The Sermons of Dr. J Swift, Dean of St. Patrick's Dublin. To Which is Prefixed The Author's Life: Together With His
Prayer for Stella, His Thoughts On, and Project For the Advancement of Religion.
AUTHOR
Jonathan Swift
PLACE OF PUBLICATION
London
PUBLISHER
[s.n.]
YEAR OF PUBLICATION
[1790]
OBJECT ID
P002429639
During his time in Dublin as the Dean of St. Patrick's Cathedral (1713-1745), Swift gave sermons on every fifth Sunday. In Dublin he was well known for these. They dealt with political issues and gave insights into the political writings of Swift at the time.
The sermon Doing Good: A Sermon on the Occasion of Wood's Project was given around the time his Drapier's Letters were published. It shows very clearly that Swift did not see his role as dean separate from his role as political activist. He promotes Irish patriotism as the highest civic virtue and as an almost sacred duty for all inhabitants of Ireland.
---
10
TITLE
Letter of Advice to a Young Poet
AUTHOR
Jonathan Swift
PLACE OF PUBLICATION
London
PUBLISHER
W. Boreham
YEAR OF PUBLICATION
1721
OBJECT ID
P001357871
In this satire Swift attacks the businesslike paths poets were taking to write more poetry and earn more money, the so-called Grub Street Poets.
Grub Street was a London street famous for the large number of poor hack writers, aspiring poets, and low-end publishers and booksellers.
---
11
TITLE
Remarks on the Life and Writings of Dr. Jonathan Swift
AUTHOR
John Boyle, Earl of Orrery
PLACE OF PUBLICATION
Dublin
PUBLISHER
[s.n.]
YEAR OF PUBLICATION
1752
OBJECT ID
 P001384216
John Boyle, Earl of Orrery was the first to write a biography on Swift.
Although he claimed to be a friend of Swift, Boyle was utterly negative in his subjective and partial views, listing page upon page of characteristics which he felt Swift lacked. In spite of this, or perhaps because of it, the work drew much attention when it was first published: it sold over 7,500 copies within a month.
The book itself subsequently was attacked by Patrick Delany who came to Swift's defence in Observations Upon Lord Orrery's Remarks On The Life and Writings of Dr Jonathan Swift.
---
12
TITLE
Miscellenea in Two Parts; Part I of II
AUTHOR
William Temple
PLACE OF PUBLICATION
London
PUBLISHER
Awnsham & John Churchill; Richard & Ralph Simpson
YEAR OF PUBLICATION
1697
OBJECT ID
P00120904x
Swift became secretary to essayist, statesman and diplomat William Temple in 1698.
This collection of essays by Temple was Swift's own copy: Swift's signature is visible on the top right corner of the title page.