Lecture: Remembering Want in our Past: Confronting Hunger Today
October 17, 2019 @ 5:30 pm

-

9:00 pm

Free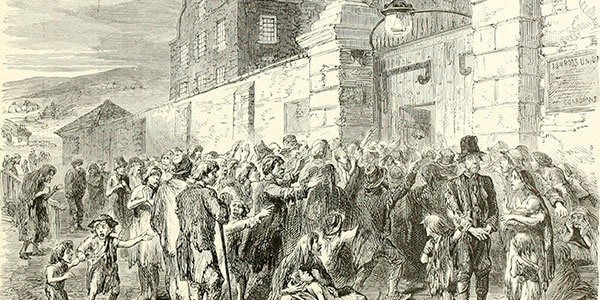 Armagh Robinson Library and its collections are a monument to the Enlightenment, that movement of empirical and philosophical enquiry which is at the foundation of our understanding of the world today. Among its holdings, the Library has works on the horticultural and agricultural advances for which the eighteenth century became famous, and which foreshadows the continuing development of agricultural science. Yet, within seventy-five years of the Library's foundation, Armagh, like the rest of Ulster and all Ireland was gripped by a catastrophic famine, unique in the history of nineteenth-century Europe, whose legacy in Irish consciousness, and even in the Irish landscape, persists to this day.
It is appropriate, therefore, that the Library should host an evening entitled 'Remembering Want in our Past: Confronting Hunger Today' as part of the One World Festival promoted by CADA, the Coalition of Aid and Development Agencies NI. This is the second of a series of events in which the Library and its heritage is the context for discussion of significant contemporary issues. The memory of the Famine in Armagh is an enduring challenge to address the realities of poverty, hunger and environmental degradation on a global scale today.
The evening will begin with refreshments, fairly traded, from 5.30 p.m. A panel discussion with audience participation will follow from 6.30 until 8.00 p.m. The speakers will include:
• Dr. Francis Costello, whose talk will cover the impact of the Famine in Armagh and throughout Ulster as well as its relevance in confronting hunger today. He is a contributing author to 'The Meaning of the Famine', Leicester University Press, 2000.
• Dr. Glenn Denning, a Professor of Practice at Columbia University's School of International and Public Affairs, will speak on what is needed to achieve a food-secure world by 2050. He will draw on more than 30 years of field experience as an agriculture and food security practitioner in Asia and Africa.
• Marie Abbott, Chairperson of Self Help Africa, will speak on 'Developing Food Security for Rural Farmers and Communities'
RSVP: Tickets free – please follow the link to register